Photographer Mona Kuhn reflects on mysticism and modernism in Joshua Tree
The Brazilian artist ventures into the desert for a new series, She Disappeared into Complete Silence, capturing her muse in Robert Stone's golden Acido Dorado house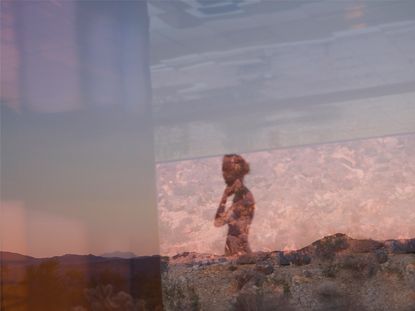 (Image credit: Mona Kuhn)
A modernist glass house on the edge of Joshua Tree is the setting for artist Mona Kuhn's mysterious new series, She Disappeared into Complete Silence, released as a book published by Steidl. The desert terrain of the southeastern Californian national park, known for its Joshua trees and distinctive boulders, has attracted campers, climbers, stargazers and psychedelic lovers for years. It has been the subject and site for numerous works of art, and more recently, a place where artists have bought property for weekend getaways from LA (Ed Ruscha is one them).

Brazilian-born artist Mona Kuhn, known for her close to life-size nudes, headed out into the wilderness with an old friend, Jacintha, to shoot an experimental project at Robert Stone's gilded Acido Dorado, built on five acres of high desert. The single story minimalist structure mirrors the golden hues of its surroundings, in turn becoming 'an extension of my own camera and optics,' Kuhn explains. 'These translucent surfaces offered a great setting for reflections and at times worked as a prism for the light.'
'I was drawn to the desert because of its magical light and raw mystic landscape,' she says. The house and its remote location was the ideal stage for experimentation and to 'push the boundaries of representation'. The artist adds: 'I wanted to escape the body and photograph the human presence coming in and out of evidence, at times over exposed, at times hidden in shadows, like a desert mirage, a solitary figure who could have been the very first or last.'

The series introduces abstraction into Kuhn's practice for the first time, and moves between the landscape and the figure, navigating between nature and culture, meaning and being. 'It was important for me to embrace abstraction,' says the artist. 'For example, [there is] a sequence of images which is crucial to these works: it goes from a gradual straight image of landscape as the sun goes below the horizon line, to its refracted twilight colours onto the Mylar surface to the same image now stretched onto a large glass panel, where you recognise the landscape and its sunset colourations, but with the ambiguous silhouette of Jacintha. The abstraction of the image itself is what I was looking for.' Likewise, the suggestive cover, recalling a Lucio Fontana painting, is a simple slit down the middle, 'as if you would split open the image as you open the book'.

Timeless and trippy, the photographs are testimony to the unique effects of the desert environment – a place for deep enquiry and to ruminate on the essence of being human. 'She has unfolding meanings. It refers not just to the single figure, but also the endless horizon lines running into infinity, and the lines rendered from thoughts,' as Kuhn puts it.
INFORMATION
She Disappeared into Complete Silence, €45, published by Steidl (opens in new tab)
Charlotte Jansen is a journalist and the author of two books on photography, Girl on Girl (2017) and Photography Now (2021). She is commissioning editor at Elephant magazine and has written on contemporary art and culture for The Guardian, the Financial Times, ELLE, the British Journal of Photography, Frieze and Artsy. Jansen is also presenter of Dior Talks podcast series, The Female Gaze.