Talking shop with Miranda July at her charitable Selfridges pop-up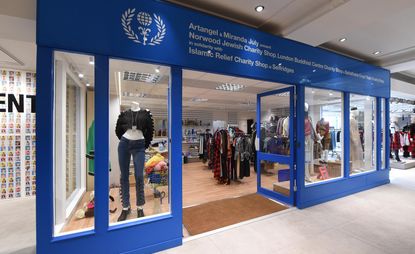 (Image credit: Stuart C Wilson/Stuart Wilson/Getty Images)
Film director and artist Miranda July is going to great – if unconventional – lengths to celebrate one of London's great unsung heroes: the local charity shop. 'Nowhere else I know in the world has such an eclectic and diverse array of charity shops,' she says. 'There's so much hope in that.'

Housed in the unlikely location of London's temple of transactions – Selfridges – the off-beat artist's interfaith store assembles a random mix of wares from four local London charities: the Norwood Jewish Charity Shop; London Buddhist Centre Charity Shop; Spitalfields Crypt Trust; and Islamic Relief. Bobbly jumpers sit side by side with costume jewellery, furry photo frames hang next to headscarves.

And she's calling it 'art'. 'The wonderful thing is, that this installation is not art on the surface,' she explains. 'So many people coming in won't be thinking of it that way. That will be one of the most fun things about it.'

This is shopping; it's light and fun. But there's also an underlying gravitas. Flying out of a post-Trump America, and into a post-Brexit Britain, the interfaith aspect was essential for LA-based July. 'We'd all be so offended if there was just, say, one Christian charity shop present. It needs to invite everyone, as the store does.'

Working from across the pond, she relied on Google (along with hazy memories of hunting through bargain bins when living in London in her 20s) when researching which stores to involve. 'I Googled "charity shops UK" and Islamic Relief popped out,' she explains. 'It may not jump out to you, but as an American, we couldn't have an Islamic Relief charity shop. There's not a big enough Muslim population. And people just wouldn't have it. For me, there's a comfort in a mosque just being on a logo.'

The concept actor, who often draws intimately from personal experience, applied the same 'deep-dive' techniques when conceptualising her charity boutique. 'At one point, it hit me. What does "charity" actually mean?' she says. To understand the concept more fully, July met with different religious leaders.

One was Rabi Gluck, a prominent figure in London's interfaith movement. 'He said to me, "In my tradition, the meaning of charity is to give enough so that they, in turn, will have enough to give to someone else." Charity is a human right. The ability to help some one else is what makes you human.'

The team at Selfridges responded to this concept with aplomb, and allowed July free reign to design the store as she wished. 'They understand that's how we'd achieve the best result,' she explains.

She hopes that her low-priced pop-up will attract a different audience to Selfridges, as well as offering the normal clientele an eye-opening alternative option. She's disrupting the mindlessness we often fall into when shopping. 'You go into a store, you make a choice, you pick something that reflects you,' she says. 'Sometimes, you go into a little room and take off all your clothes, having just walked in off the street! You look at yourself, think about yourself, who you are, what you can spend. Then you give a stranger money behind the till.'

These are more than just Trainspotting-esque musings on life's little mundanities. July is fascinated by the apparent absurdity of the shopping process. 'It's something everyone does everyday,' she says. 'We already know how to do it, we don't have to explain the rules.' Her pop-up is a way of creating a consumer experience that has meaning enough to shake up our daily performances, transforming them into something elevated, meaningful, considered.

Or not. 'It's ultimately up to the viewer, as in any piece of art, if they find meaning in it,' July explains. We certainly do. She uses the high profile nature of the Bond Street location to propel us into thought, playing on one of the city's ubiquitous pastimes, July is selling us a complex, performative artistic idea in a package we can all buy into.
INFORMATION
The Interfaith Charity Shop is open until 22 October. For more information, visit the Artangel website (opens in new tab) and Miranda July website (opens in new tab)
ADDRESS
Selfridges
400 Oxford Street
London W1A 1AB
VIEW GOOGLE MAPS (opens in new tab)
Elly Parsons is the Digital Editor of Wallpaper*, where she oversees Wallpaper.com and its social platforms. She has been with the brand since 2015 in various roles, spending time as digital writer – specialising in art, technology and contemporary culture – and as deputy digital editor. She was shortlisted for a PPA Award in 2017, has written extensively for many publications, and has contributed to three books. She is a guest lecturer in digital journalism at Goldsmiths University, London, where she also holds a masters degree in creative writing. Now, her main areas of expertise include content strategy, audience engagement, and social media.