Rethinking modern architectural icons with Havsteen-Mikkelsen
A new book published by Kerber explores the modernist perspectives of artist Asmund Havsteen-Mikkelsen through a series of cocktail-hour vignettes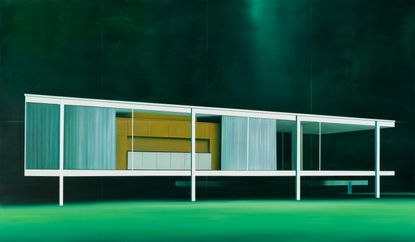 (Image credit: TBC)
Last year, Copenhagen-based artist Asmund Havsteen-Mikkelsen sunk a 1:1 scale model of Le Corbusier's Villa Savoye in a Danish fjord, for Vejle Museum's Floating Art Festival, to a tidal wave of social media attention. 'The project is a critical comment on the current status of modernity after the scandals of Cambridge Analytica, the Trump election, Putin's interference in democratic elections, the advancement of right-wing radicals in Europe, and Brexit,' the artist provocatively said at the time, serving to raise the level of digital fervor to a flood.

A quieter project celebrates the artist's subtle side. Printed by small German arts publisher Kerber, Mentalscapes collects Havsteen-Mikkelsen's painted depictions of modernist architecture and design, created over the last five years. The moody, cocktail-hour tones of the meditative book define the phrase 'sight for sore eyes'. Each page turn offers a form of visual, architectural therapy.
In the introduction, architecture historian Andreas Ruby sheds light on what these abstract 'mentalscapes' symbolise – and of course, they go deeper than their tonal tranquility and pleasing symmetry. 'I understand the concept to be the possibility of giving a parallel existence to the material reality of architecture in a mental space where we can reflect, transform and redefine,' Ruby writes. For instance, the colour palatte of sickly yellows, moon greys, and inhuman pinks, gives us the chance to see these famed structures in isolation; separate from the healthy, golden trees in their gardens, and the real-green of their front lawns.
RELATED STORY
Whether depicting Richard Neutra's 1956 Chuey House, or Mies van de Rohe's Farnsworth House (as seen in Mood Machine, pictured top) Havsteen-Mikkelsen's buildings appear anything but inviting. They're hawkish and closed; the observer can coolly look, provided they stand well clear of the front door. As opposed to painting from life, the artist often uses photography as his only reference (as he did with Julius Shulman's immortalising images of Chuey House, for example), impacting this poised sense of distance. 'He also eliminates the contemporary furniture and with it any hint of potential activity in the house,' Ruby continues, 'which seems to have capitulated to its own imminent disappearance in the darkness of the night.'

And so, as the structures become ghostly, alien and melancholy, the paintings become more intriguing, narrational, calming. They depict a surreal future that will never befall the buildings in real life, with their weathered walls, furniture rotations, and shifting owners. Bookended by a duet of dense and refining texts, written by Ruby and art historian Micheal Diers respectively, there's a real sense of learning here. If using Mentalscapes as coffee table fodder, expect your guests to stay for more than one cup.
INFORMATION
Elly Parsons is the Digital Editor of Wallpaper*, where she oversees Wallpaper.com and its social platforms. She has been with the brand since 2015 in various roles, spending time as digital writer – specialising in art, technology and contemporary culture – and as deputy digital editor. She was shortlisted for a PPA Award in 2017, has written extensively for many publications, and has contributed to three books. She is a guest lecturer in digital journalism at Goldsmiths University, London, where she also holds a masters degree in creative writing. Now, her main areas of expertise include content strategy, audience engagement, and social media.