Matthew Brannon show at Casey Kaplan, New York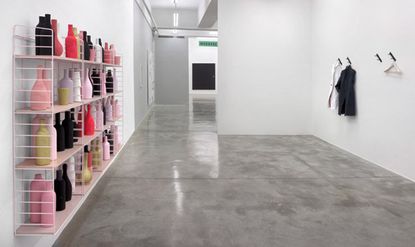 (Image credit: Cathy Carver, NY Photo)
Structured around the plot-line of a sexually frustrated private detective and his suspect - a 'sexually deviant' dentist - Matthew Brannon (opens in new tab)'s arresting murder mystery first courted visitors at this year's Frieze Art Fair. His graphic body of work, which makes use of text and narrative and incorporates his trademark intermingling of print and sculpture, went on to sell out on day one. Now Brannon's tale is being played out in full in a show entitled 'Gentleman's Relish' at New York's Casey Kaplan (opens in new tab). Told through silkscreen and letterpress prints, paintings and sculptures, together with collaborative artworks by designer Carlo Brandelli (opens in new tab) - it is once again giving visitors the chance to indulge in an old-fashioned spot of mystery-solving.
To navigate the show, you find yourself weaving through a graphic set of props, personas, sets, and scenarios, separated into three rooms within the gallery. The 'Adult's Only', 'Powder Room' and 'Police Station' - venues central to the story - are entered through a sculptural door, hand-painted in back-to-front signage.
Brannon invited designer and artist Carlo Brandelli to design two contrasting coats for the characters in the story. To give visitors a greater sense of the 'private detective' and the 'dentist', Brandelli has devised scents for each character, comprising notes of whisky and tobacco for the detective and mint and chloroform for the dentist - to be sprayed on the coats daily as part of the artwork. Little details like these, combined with Brandon's trail of clues along the way, result in a show that intrigues and puzzles in just the right balance.
ADDRESS
525 West 21st Street
New York
NY 10011
VIEW GOOGLE MAPS (opens in new tab)