Abstract artist Mary Weatherford dazzles with neon-bisected takes on Titian
American artist Mary Weatherford – among Wallpaper* guest editor Kelly Wearstler's pick of contemporary creatives in our October 2022 issue – has imagined an entire exhibition of abstract paintings dedicated to Titian's Flaying of Marsyas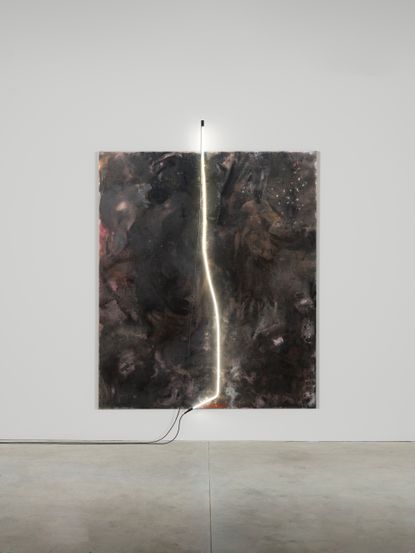 (Image credit: Fredrik Nilsen Studio, courtesy of Gagosian)
Wallpaper* Newsletter
Receive our daily digest of inspiration, escapism and design stories from around the world direct to your inbox
Thank you for signing up to Wallpaper. You will receive a verification email shortly.
There was a problem. Please refresh the page and try again.
When Titian's Flaying of Marsyas arrived at London's Royal Academy of Arts in 1983, its first modern appearance outside Italy, it was still unseen by many. The masterpiece was one of Titian's last, and tells Ovid's tragic story of the satyr Marsyas, who, after losing a flute-playing contest to the god Apollo, was punished with a cruel, prolonged death. Audiences were spellbound by its immense agony; flesh ripped from bone, bodies in frenzied motion, heightened by the Venetian artist's uncharacteristically loose brushwork.
Flaying of Marsyas also cast a spell over American artist Mary Weatherford – one of five contemporary creatives showcased by Wallpaper* guest editor Kelly Wearstler in her October 2022 issue takeover – when she first saw the painting in Rome a decade ago. 'I was shocked', she says. 'I had seen violence depicted in painting before, but never like this. The characters attending the execution seem to take it in their stride, particularly the violinist who lays down a musical backdrop to the suffering. The name of the painting literally translated from Italian is "The Punishment of Marsyas", which resonates with me because, in theory, punishment should be fair. This punishment – for hubris or ignorance? – seems outsized, to put it mildly.'
Weatherford imagined an entire exhibition of abstract paintings dedicated to Titian's. In April this year, that exhibition, 'The Flaying of Marsyas', came to life at Venice's Palazzo Grimani, coinciding with the 59th Venice Biennale. 'I wanted to remake the painting again and again,' she says.
While Titian's painting was dropping jaws in 1980s London, Weatherford was studying art at Princeton. 'Postmodernism was in the air,' she recalls. 'I interpreted it to say I had permission to use whatever style I wanted to get my point across.' It's this curiosity for history and openness to shapeshifting that has defined the artist's career and seen her become one of the pivotal painters of her generation.
Though her work might now be characterised by broad, gestural brushstrokes with layered colours and paint viscosities, it wasn't always this way. The artist has moved through chapters of disparate painterly styles – from assemblages involving shells, sponges, and starfish to razor-sharp abstraction, image appropriation and photography – in which themes such as gender and architecture rub up against each other. One constant, though, has been painting horizontally, on the floor or a table. 'This approach has been the same for 30 years,' she says. 'I just commissioned a platform that can be perfectly levelled. I can pour liquid colour onto a canvas stapled to the platform, and the paint doesn't move.'
Her artistic influences have ranged far and wide – 'you name it, it's in there', she says – but one stands out: the American folk musician Dave Van Ronk, with whom Weatherford studied guitar in the 1990s. 'For three years on Thursday evenings, I went for lessons at his apartment on Sheridan Square in New York,' she recalls. 'He taught me how to practise, and that carried over to painting. Van Ronk was one of my great art teachers.'
Another pivotal moment arrived in 2012. While a visiting artist at California State University, Weatherford was driving around the small city of Bakersfield. She was struck by the array of neon signs cladding factories, shops, restaurants and advertisements. For The Bakersfield Project, 2012, Weatherford first incorporated the sinuous rods of neon that would go on to define her best-known paintings. Evoking hand-drawn lines, her neon ebbs and flows above her vast linen canvases (including those on show at Palazzo Grimani) like divine interventions or industrial interruptions – a searing, retina-marking counterpoint to her sombre palette of blacks, greys, purples and accents of silver.
Her art has offered feminist reworkings of the male-dominated colour field and reconfigured the path for landscape painting. 'I think of landscapes as the eyes of history,' says Weatherford, who often draws on the expansive vistas and ethereal light of her home state of California. 'For the most part, landscapes are stable and immutable. Events happen in them, mostly leaving no trace. But the landscape is always there as a witness.'
Titian's Flaying of Marsyas is a horror story in its purest form; a potent example of man's cruelty to another. In Weatherford's response – ongoing in a series of woodblock prints on Japanese paper – it's the absence of bodies that allows for the presence of humanity.
INFORMATION
'The Flaying of Marsyas' is at Museo di Palazzo Grimani, Venice, until 27 November 2022
gagosian.com, polomusealeveneto.beniculturali.it
A version of this article appears in the October 2022 Legends Issue of Wallpaper*, available in print, on the Wallpaper* app on Apple iOS, and to subscribers of Apple News +. Subscribe to Wallpaper* today
Receive our daily digest of inspiration, escapism and design stories from around the world direct to your inbox
Harriet Lloyd-Smith is the Arts Editor of Wallpaper*, responsible for the art pages across digital and print, including profiles, exhibition reviews, and contemporary art collaborations. She started at Wallpaper* in 2017 and has written for leading contemporary art publications, auction houses and arts charities, and lectured on review writing and art journalism. When she's not writing about art, she's making her own.