A Marrakech exhibition takes a radical view of identity and social unrest
Following an international descent of visitors for 1-54 art fair, a group exhibition at MACAAL surveys the politics of identity through 12 global voices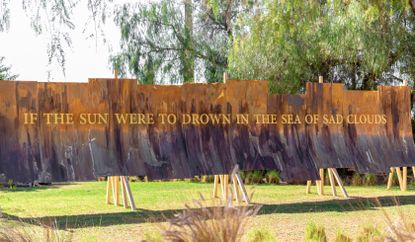 (Image credit: © Omar Tajmouati)
Marrakech: a city drenched in a soft pink hue and dense with propositions by overzealous merchants, hazardous scootering in the labyrinthine medina and a new whiff of spice at every turn. This is a city brimming with creativity, yet spaces and events dedicated to contemporary African art are more of a rarity.

'You guys in the west, every day you're engaging with art, you have billboards and tonnes of magazines on art. We don't have art unless you move your ass and go and get it!' exclaims Othman Lazraq, founder and president of MACAAL (Museum of African Contemporary Art Al Maaden). The fledgeling museum – first founded in 2016 to house the private collection of Alami Lazraq and his son Othman – has since become one of Marrakech's contemporary art cornerstones, a non-profit organisation that seeks to broaden the scope of art in Africa and ultimately, to 'democratise access to art.'
MACAAL is situated in the Al Maaden Golf Resort, an immaculate gated community overlooked by the Atlas mountains. Lazraq doesn't view its distance from the city centre as an issue. 'As long as we have free shuttles to bring people from the city, location is just a detail of what we're doing.'

Their latest international group exhibition begins with a song by Yoko Ono and ends with 12 intensely personal human stories, narrated through all manner of media from flowers to sugar and cargo crates. The show is a chance to free the blind spots in our understanding of identity, place and cultural osmosis in Africa and far beyond. As exhibition curator, Marie-Ann Yemsi succinctly puts it, 'As a curator, my only weapon is culture.'
'Have You Seen A Horizon Lately?', the exhibition's title, is branded a large white billboard on MACAAL's façade. This is the name of a song from Yoko Ono's 1973 album, Approximately Infinite Universe and forms part of her 'Instructions' series which deploys language as a tool to unite, provoke and get us thinking before we've even passed the museum doors.

Inside, there's a distant sound of running water. Turning into the central atrium, we find the root of the source, Daniel Otero Torres' Lluvia, an imposing wooden tower of buckets, hosing and what looks to be corrugated roofing. Water trickles down, making this fountain of humble detritus appear majestic, rhythmic and meditative. Otero Torres was inspired by a visit to the Emberá, a Columbian community on the banks of the Atrato River. In a region of Latin America polluted by illegal gold mining, the community resorts to ingenious systems of recycling and sanitising rainwater for consumption.
To the right, Canadian artist Kapwani Kiwanga's Flowers for Africa is a series of intricate floral compositions arranged on plinths and strung to the ceiling. Armed with a background in social sciences, Kiwanga meticulously researched archival images to re-enact displays from specific events in African history resulting in a symbolic timeline tracing 20th-century colonial struggles, independence celebrations, and the withering hope of subsequent years. We're seeing them at their freshest, but as the flowers succumb to time, they will wilt, fade and probably produce a scent as potent as some corners of the distant medina.
Upstairs, we walk into someone's bedroom and suddenly feel like awkward voyeurs. It's dark apart from a bed, which has a row of piercing neon lights in lieu of a mattress. Above, a dreamlike composition of neon shapes including a chair and high-heeled shoe dangle like a child's mobile. Here, artist Amina Benbouchta frames the conjugal bed as an object of taboo in Moroccan society. The accompanying soundtrack of almost whispered French erotica from the 15th century is indecipherable unless you understand French, yet penetrates your ear canal to the point of discomfort. 'It's about women, storytelling and their place in history. They didn't write history, they were just allowed to tell stories. The place of the woman was always in the bed,' says Benbouchta.
Another room is filled with what looks to be a very large sandpit. The material is, in fact, brown and white sugar, separated in intricate waves like a floor mosaic. Trópico Entrópico is one of a series of works by Colombian artist and architect, Felipe Arturo. The medium and composition stand as a metaphor for structures imposed by colonial empires and the exploitation of local resources. The piece, however, is not yet complete. It is only when visitors engage, mix and blur the sugars to form one colour that Arturo's work comes to fruition.
Maxwell Alexandre's figurative work draws on the culture of Rochina, Latin America's biggest Favela, situated in the artist's hometown of Rio de Janeiro. The artist's near faceless bodies have Schiele-esque lines and explore the culture of rap and urban fashion. In his Pardo é Papel (Brown is Paper) series, Alexandre paints the Afro-Brazilian inhabitants of Rochina, rendered on brown paper, or 'pardo', referring both to the dusty brown tint of the paper and a term used by Brazilian officials to refer to people of colour in census surveys. Alexandre's enormous paintings, draped on tables and filling the entire museum stairwell, command attention and subvert the concept of the 'white cube'.
INFORMATION
'Have You Seen A Horizon Lately?', until 19 July, MACAAL. macaal.org
ADDRESS
MACAAL

Al Maaden
Sidi Youssef Ben Ali
40000 Marrakech
View Google Maps (opens in new tab)
Harriet Lloyd-Smith is the Arts Editor of Wallpaper*, responsible for the art pages across digital and print, including profiles, exhibition reviews, and contemporary art collaborations. She started at Wallpaper* in 2017 and has written for leading contemporary art publications, auction houses and arts charities, and lectured on review writing and art journalism. When she's not writing about art, she's making her own.