Grand gestures: Mark Wallinger gets his hands dirty at Hauser & Wirth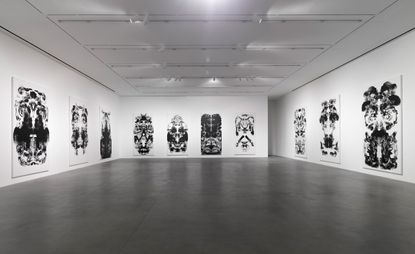 (Image credit: Ken Adlard)
Where's Wallinger? Everywhere and nowhere, it seems, at the British artist's latest exhibition. Presenting new paintings and multi-media works in 'ID', Hauser & Wirth has given over both of its Savile Row salons in London to Mark Wallinger's debut solo exhibition at the gallery.

Traces of Wallinger are threaded through the show; like a crime scene we feel compelled to search for clues – some more obvious than others – and by extension the culprit. In the opening work, Ego, 2016, Wallinger recalls Michelangelo's Creation of Adam with his own hands in a minute pair of iPhone photographs (perhaps joining Alec Soth's new school of 'unselfies').

The artist's monumental new series of id paintings take pride of place in the North Gallery. Derived from Sigmund Freud's notion of 'id' – the component of our personality structures that fuel our basic, instinctual drives – they bear an overt, immediate resemblance to Rorschach's inkblots. Less explicitly, they recall the bilateral symmetry of Leonardo da Vinci's Vitruvian Man in that each canvas is the width of Wallinger's 1.8m span, and double that again in height.

'The paintings are made with instinct, sometimes blindly, intuitively and/or in a dialogue,' explains Wallinger in his exhibition notes. The works' deceptively impeccable symmetry belies his hands-on approach; the artist covers half of the canvas with his paint-laden hands, before flipping it and continuing. 'Painting is not usually experienced as a time-based medium. The painting is ready for the viewer when the work is done,' he adds. 'But [id] is the antithesis – the painting is a starting point, a cue for the serious work of the viewer to begin.'

Wallinger completes his Freudian trifecta in the South Gallery with another new work, Super Ego, 2016: a mirrored homage to the revolving New Scotland Yard sign. He offers us another clue, another piece of himself: the motorised sculpture is erected directly opposite the West End Central Police Station where the artist was taken in 1986 after an assault during a violent protest.

There's no escaping Super Ego's pansophical gaze, a reflection of the 'ceaseless energy and vigilance of the police'. The omnipresent artist looms large, but invisibly, embodied by his all-seeing totem.

Elsewhere, the artist sends us spinning in a video work presented across four screens – one for each season – tracing a commemorative oak tree at the centre of a roundabout in Barkingside. Wallinger circles around it in his car, capturing it on an iPhone Blu-Tacked to the window. It's another chapter in his autobiographical show – it was the first roundabout he tackled as a learner driver. Round and round we go, as Wallinger pulls us into his orbit.

At last, we catch up to Wallinger, now in the role of flâneur, in Shadow Walker, 2011 – or so he has us believe. The artist remains ever elusive and, like Peter Pan, we are left chasing a shadow.
INFORMATION
'ID' is on view until 7 May. For more information, visit the Hauser & Wirth website (opens in new tab)

Photography: Ken Adlard. Images copyright Mark Wallinger. Courtesy of the artist and Hauser & Wirth
ADDRESS
Hauser & Wirth
23 Savile Row
London, W1S 2ET
VIEW GOOGLE MAPS (opens in new tab)