Vast art hub LUMA Arles opens in France
The new LUMA Arles, located in 27 acres of landscaped park, is home to works by artists including Philippe Parreno, Olafur Eliasson and Kapwani Kiwanga, and a group show of rising art stars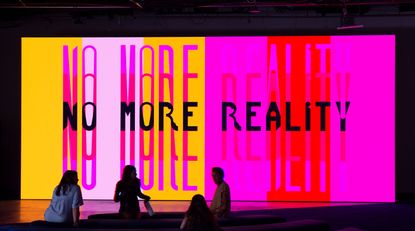 (Image credit: © Marc Domage)
LUMA Arles, a vast new arts centre in southern France, has opened its doors to the public. Works from artists including Philippe Parreno, Etel Adnan, Olafur Eliasson, Koo Jeong A, Kapwani Kiwanga, Helen Marten, and Carsten Höller are situated in and around Frank Gehry's twisting tower, which sits at the centre of the 27-acre landscaped park. The tower, clad in stainless steel panels, is home to workshop rooms and archive and research facilities, as well as making an architecturally imposing exhibition space.

Occupying two exhibition spaces in The Tower is Philippe Parreno, whose immersive artworks explore what it means to be an individual. The first tells the story of an urban space that comes to life, as Danny, and responds to the information gleaned from its environment. Visitors notice a window blind moving up and down or a change in wind direction; a pattern of mundane movements that make us want to identify Danny as something tangible.
The sounds of the building become indistinguishable from Danny, in a fusing of identity so successful that Danny's own character becomes impossible to place. It is an ambiguity carried through into Parreno's film No More Reality, itself an exhibition space that fuses ten of the artist's films together into a single narrative.

The narrative is subjective, but the subject flits through different identities, to a background of sound that is in jarring discord to the moving images, creating an uncomfortable friction.
A sense of disorientation is also examined by Olafur Eliasson, whose Take your time builds on a fascination with natural phenomena previously explored through natural materials such as light, ice and water. The artwork, situated in the second level of The Tower, plays with reflections through a large circular mirror attached to the ceiling above a double-helix staircase. Rotating on its axis, its skewed distortion of the architecture of the tower creates an uneasy sense of the infallibility of space for the viewer.

For Carsten Höller, The Tower's height becomes an opportunity to continue his work into the architectural possibilities inherent in slides. Seduced both by the efficiency with which they transport you to your destination and the temporary state of madness they incur on our consciousness, his work is a persuasive argument to see them embraced with the ubiquity of elevators and escalators. In the garden, the journey is further examined in a passage of mirrored sliding doors that seem to stretch to infinity, a chain only broken with the advance of a visitor whose actions force a limit to the space.
Koo Jeong A is another artist attracted to the architectural possibilities in children's play. Her skatepark on the public terrace, drawn in fluorescent, glow-in-the-dark paint, plays on light conditions and also notes the close relationship between performance and contemporary culture.

Emerging artists join established ones in 'Prelude', which unites the works of Sophia Al-Maria, Kapwani Kiwanga, P. Staff and Jakob Kudsk Steensen in an exploration of how the destruction of nature is shaping our society. Works encompassing virtual reality, sculpture, sound and video consider political colonisation and the colonisation of ecosystems. Kiwanga's Flowers for Africa situates history as a living entity with the ability to incite change, while Al-Maria explores collective history in Tender Point Ruin, which takes a beautiful corpse as its focus in a study of life's dynamic rhythms. P. Staff looks at the consequences of two bodies touching in Conjunctions, exploring the shift of energies, while Kudsk Steensen transports the viewer to Camargue in Liminal Lands – a timely reminder of the mysteries of the world we live in.
INFORMATION
Receive our daily digest of inspiration, escapism and design stories from around the world direct to your inbox
Hannah Silver is the Art, Culture, Watches & Jewellery Editor of Wallpaper*. Since joining in 2019, she has overseen offbeat design trends and in-depth profiles, and written extensively across the worlds of culture and luxury. She enjoys meeting artists and designers, viewing exhibitions and conducting interviews on her frequent travels.