Louis Vuitton marks 200th birthday with art video game
Celebrating 200 years since Louis Vuitton was born, the luxury French fashion house has launched a new video game that combines NFT art, heritage and innovation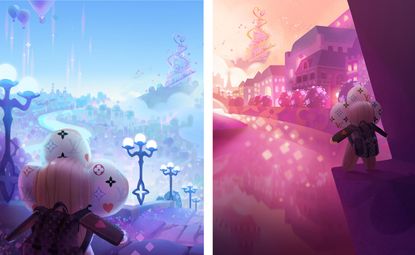 (Image credit: TBC)
In a distinctive anniversary celebration, luxury French fashion house Louis Vuitton has launched an art-infused video game that blends education, entertainment and escapism.

At the heart of Louis the Game is a quest, one that nods to the journey of the brand's founder. Aged just 14, the young Louis Vuitton trekked on foot from his home in the Jura region of France to Industrial Revolution-era Paris armed with ambition, resilience and talent. This quest – spanning 292 miles and two years – would reap its rewards when he finally arrived in Paris. There, he became one of the most sought-after trunk makers of his generation and founder of a global brand that, since being founded in 1854, still retains the forward-looking spirit of its roots.
Louis the Game's energetic protagonist and brand mascot, Vivienne, embarks on her own quest across seven fantasy locations, inspired by Paris, London, Beijing, Tokyo and New York, to reach a festive birthday destination.

As the player assumes the role of this eccentric monogrammed flower character, they collect candles, each of which unlocks a postcard containing an anecdote. These 200 anecdotes – which span Louis Vuitton's collaborations, special orders, technical trivia, family history, artistic interventions, runway highlights – are then stored in Vivenne's monogrammed trunk.
Another key feature of the game is art. Integrating cutting-edge blockchain technology, it includes 30 NFTs (Non-Fungible Tokens). Ten of these are created by digital artist Mike 'Beeple' Winkelmann, who, in March 2021, shattered the record for most expensive digital artwork with Everydays: the first 5,000 days, a collage piece that sold at Christie's for a value of $69.3m.

This is not the first time Beeple has teamed up with Louis Vuitton. Nicolas Ghesquière collaborated with the artist to create exclusive prints inspired by existing artworks for the women's S/S 2019 collection, for which Beeple also created exclusive videos to feature in a range of global store windows.

As players move through striking, otherworldly environments, banners for NFTs pop up and gamers will have a chance to acquire them, after which they are stocked in a digital wallet (locked until 2022).
Louis Vuitton video game: level by level
As a player progresses, so too does the sophistication of Vivienne's abilities. Between levels, players meet Gaston, the sharply dressed bellboy who oversees the game map and holds the key to each new world. Points can be collected along the way, with achievements logged on a global leaderboard. These can be spent on wide-ranging 'skin changes' and 12 accessories available from virtual Louis Vuitton stores located throughout each level.

In Louis' Forest (level one) users can familiarise themselves with the character's basic controls: idle, walk, run, turn and jump, but things soon progress when Vivienne begins ledge climbing on the dramatic architectural features in Luminous City (level two).
In the Adventure Kingdom (level three), accessible via helicopter, building designs shift from European-inspired structures to the towering skyscrapers of Asia, through which Vivienne floats and glides. Arriving via sailboat on Monogram Island (level four), she unlocks the ability to 'double jump'.
Following a container ship journey, she learns how to 'rail slide' through the Sunshine Metropolis (level five), before reaching a climax on the final level, Birthday Extravaganza. Here, all Vivienne's acquired skills can be combined, and the final ten candles are placed on a celebratory cake marking the game's completion.

Available in English or Chinese via the Apple App Store or Google Play from 4 August 2021, Louis Vuitton's transgenerational game is a refreshing take on an anniversary celebration, one that combines heritage, art innovation and, ultimately, fun.
INFORMATION
Harriet Lloyd-Smith is the Arts Editor of Wallpaper*, responsible for the art pages across digital and print, including profiles, exhibition reviews, and contemporary art collaborations. She started at Wallpaper* in 2017 and has written for leading contemporary art publications, auction houses and arts charities, and lectured on review writing and art journalism. When she's not writing about art, she's making her own.