Louis Vuitton S/S 2019 Paris Fashion Week Women's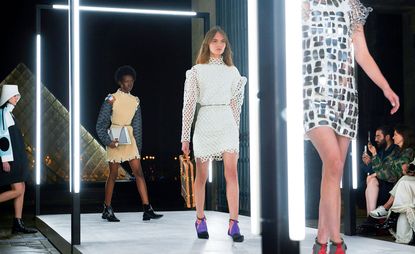 (Image credit: Jason Lloyd-Evans)
Scene Setting: For the very last show of this fashion month, Nicolas Ghesquière took us back to the future. To his future. The Louis Vuitton designer (fresh off renewing his contract with the Parisian house) delved in the roots of his long-lived sci-fi obsession, and he did it through a striking mix between history and a dystopian narrative. The show, as usual, took place in the Musée du Louvre. But this time, the carved stone façades of the iconic building were only visible through the transparent plexiglas or a series of tunnels illuminated by neon bulbs, like breathable space capsules separating us from a toxic environment. But there was much more than that to the collection.
Best in show: There was no one clear narrative to the show. Rather, Ghesquière chose to drop hints and references here and there. The silhouette was wide-shouldered, with XL puffy sleeves, tiny waistbands and ultra high hemlines. Very Star Wars. But there were also winks to The Wizard of Oz (in the form of a futuristic green capsule city digital print) and Mad Max (those earthy tones). All of it was interspersed with 1980s flashbacks through the use of a Memphis-like colour palette and selection of prints, as well as the model's curly, high-volume hair. Then, there were the three random ultra androgynous suit looks (so much so, in fact, that more than one editor thought them to be menswear), modeled by the likes of Jessica Espinosa or newcomer transgender model Krow.
Finishing touches: Of course, Louis Vuitton's raison d'être, though, are its bags. And this season, they didn't disappoint. Along with different versions of Ghesquière's trademark model the Mini Malle, were new and daring shapes mimicking what could be thought of as a flying saucer and, most remarkably, a mini egg giving off Alien vibes. They both are sure to find their fair share of fans among die-hard fashionistas. For the more conservative clients, the pointy, buckled Chelsea boots – which came in kitten heels or flat – will surely be the way to go.