Listen up: Elmgreen & Dragset land Van Gogh's Ear on Fifth Avenue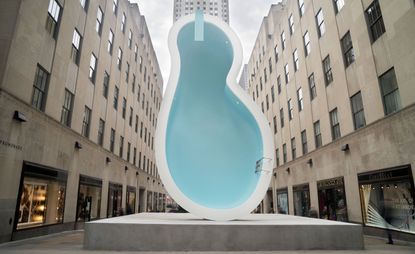 (Image credit: Guillaume Ziccarelli)
Elmgreen & Dragset's latest artwork, Van Gogh's Ear, is an upright, 9m-high swimming pool in the shape of an ear, intriguingly placed outside the Rockefeller Centre in New York.

Compared to the Scandinavian-born, Berlin-based artists' previous work, the piece is fundamentally new in spirit; a direct continuation in the tradition of Marcel Duchamp's readymades, which place daily objects as high art into museum (or in this case, public) spaces, without the artist's physical intervention.

But Van Gogh's Ear also echoes the duo's previous work, feeling as plonked in an outré setting as Prada Marfa, their fake Prada store in the West Texas desert. Indeed, Elmgreen & Dragset compared their piece to 'an alien spaceship' that had landed in the midst of New York's 'prominent and busy environment', a location that is 'visually so loud'.

'This part of New York is all about verticality. Horizontal would just not work here,' the duo explain. 'One can dream of lazy days under the sun while surrounded by all the traffic and business going on at Rockefeller Plaza.' To some New Yorkers, this invitation to daydream about California may be freeing – to others, it may feel sadistic.

The installation also continues the artists' fetish for swimming pools, objects they lacked growing up in Denmark and Norway. 'We see the swimming pool as sort of the idealised middle class dream from high modernism,' they explain, 'one that is now rendered defunct.' Their Death of a Collector installation, presented at the Danish and Nordic Pavilions at the 53rd Venice Biennale in 2009, involved a dead body floating face down in a pool. They took inspiration from David Hockney's paintings and Ed Ruscha's photos of swimming pools.

Nicholas Baume of the Public Art Fund, which hosts the installation, says, 'For many years, Elmgreen & Dragset have been masters of the unforgettably uncanny object. With its dramatic scale, wildly incongruous setting, and cleverly macabre title, Van Gogh's Ear promises to be perhaps their wittiest installation yet.'

In its playfulness, the installation will temporarily change the spirit of 5th Avenue, perhaps lightening it up, and it will definitely go down in history as a different way of remembering the myths about Van Gogh's lost appendage.
INFORMATION
'Van Gogh's Ear' is on view until 3 June. For more information, visit the Rockefeller Center website
Images courtesy the artists and the K11 Art Foundation, Galerie Perrotin, Galleria Massimo De Carlo, and Victoria Miro Gallery
ADDRESS
5th Avenue between 49th and 50th Streets
New York, NY 10111
Receive our daily digest of inspiration, escapism and design stories from around the world direct to your inbox