Parallel universe: Laurent Grasso's beguiling reinvention of a Corsican Beaux-Arts museum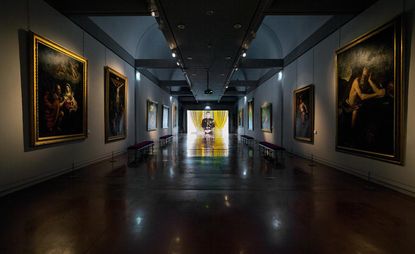 (Image credit: Claire Dorn)
The Palais Fesch, an imposing 19th century building on the waterfront of the Corsican capital of Ajaccio, houses France's largest collection of Italian paintings outside the Louvre. There are works by Botticelli, Michelangelo, Titian, Veronese and many others – interspersed among portraits and busts of the island's most illustrious family, the Bonapartes.
It's not the most obvious setting for showing contemporary art. But this hasn't stopped director Philippe Costamagna from staging exhibitions of unusual audacity. Following a much-lauded collaboration with American photographer Andres Serrano in 2014, Costamagna has now worked with French conceptual artist Laurent Grasso to reinvent the museum's top floor.
Titled 'Paramuseum', Grasso's show at the Fesch combines paintings and sculptures from the museum's collection and his own work in creative configurations. By challenging representations of political power and religious might, and blurring the boundaries between meteorology and myth, Grasso plunges his viewers into an oddly beguiling parallel universe.
On entering 'Paramuseum', the viewer is greeted by a long wall with 43 historical portraits. Grasso had selected them for their subjects' piercing gaze, and hung them so the 43 pairs of eyes are horizontally aligned. Their presence is made eerier by Grasso's neons on the opposite wall, which show epoch-defining dates (among them the destruction of Pompeii and the 1755 Lisbon earthquake).
More eyes scrutinise the viewer throughout the show. Disembodied pairs, borrowed from the Fesch's portraits, brim with enigma on new canvases. There are also images of ghostly saints, transferred from larger paintings onto silver-coated wooden blocks. Grasso has reversed the power dynamic of the usual art exhibition, and made his viewers into objects of the artworks' gaze.
Old and new works are juxtaposed to stirring effect. One room sets 17th-century portraits of ecclesiastical portraits against Grasso's marble sculpture, showing a heron whose beak is obstructed by an egg. Titled S.T. (short for 'sile tace', which means 'keep silent' in Latin), the piece nods to signs within the Vatican, and more broadly the church's demands for silent obedience. This critical view of religion is then complicated by Grasso's photograph of a priest and astronomer at work at the Vatican observatory.
Another room brings together historical busts of Napoleon's father, brother, sister, brother-in-law and niece with a film by Grasso, featuring sculptures of fantastic beasts from the Garden of Bomarzo in Viterbo, Italy – a whimsical allegory for the enduring power of the Napoleonic legend.
Further commenting on the allure of temporal power, Grasso presents a new film, Élysée, in the museum's Grande Galerie. Shot in the French president's office at the Palais de l'Élysée, it draws attention to furniture, fittings and day-to-day objects that have been gilded with gold, and uses the act of gilding as a metaphor for investing great power in a head of state.
Elsewhere, Grasso's best-known film, Soleil double, is on view. Twin suns are shown blazing down on the magnificent Museo della Civiltà Romana in Rome, in allusion to the legend of Nemesis, a dwarf star that would one day collide with our solar system and cause its destruction. A sculptural representation, consisting of two overlaid yellow neon circles, illuminates the room next door. It shares the space with a group of old landscape paintings, which Grasso had chosen for their aged, yellowed appearance. Under the neon circles' golden glow, the paintings seem rejuvenated – just as the Palais Fesch has taken on a new life under Grasso's masterful intervention.
INFORMATION
'Laurent Grasso: Paramuseum' is on view until 3 October, with the support of Galerie Perrotin. For more information, visit the Palais Fesch-musée des Beaux-Arts website (opens in new tab)
Photography by Claire Dorn, courtesy of Palais Fesch-musée des Beaux-Arts, Ajaccio & Galerie Perrotin
ADDRESS
Palais Fesch-musée des Beaux-Arts
50-52 Rue du Cardinal Fesch
20000 Ajaccio
Corsica
TF has been editor of Wallpaper* since December 2020. He is responsible for our monthly print magazine, planning, commissioning, editing and writing long-lead content across all our content pillars. He also plays a leading role in multi-channel editorial franchises, such as our annual Design Awards, Guest Editor takeovers and Next Generation series. He aims to create world-class, visually-driven content while championing diversity, international representation and social impact. TF joined Wallpaper* as an intern in January 2013, and served as its commissioning editor from 2017-20, winning a 30 under 30 New Talent Award from the Professional Publishers' Association. Born and raised in Hong Kong, he holds an undergraduate degree in history from Princeton University.