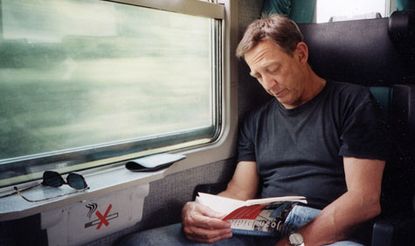 (Image credit: TBC)
Californian photographer and longtime Wallpaper* collaborator Larry Sultan has passed away aged 63. Over the course of nearly a decade Sultan pointed his lens for us at still life, interior and fashion location shoots, each delivered with his unique, often voyeuristic style we loved so much.
In celebration of the photographer's work we dug out a selection of our favourite shoots from the Wallpaper* archive and beyond
After studying political sciences at the University of California, Sultan then completed a masters in fine art from the San Francisco Art Institute. Together with Mike Mandel, who he'd met whilst studying in San Francisco, he embarked on a project collating pictures from the government, industry and police documentary archives. After two years, in 1977, the pair published a book of 59 uncaptioned photographs called 'Evidence'. Culled from government, scientific and industrial archives, it painted an enigmatic, disturbing picture of post-Industrial America, and helped to introduce the importance of the found image in art and photography.
From the 1980s Sultan began to hone his signature vision, shooting for over a decade, a series of colour-rich and hyper-realistic portraits of his parents in their suburban home, that are deeply personal but strangely detached at the same time. During the 1990s he chronicled suburban homes in the San Fernando Valley that were being used as sets for pornographic movies, imbuing the everyday, mundane locations with an otherworldy vigour and seediness.
In each of his works Sultan had an uncanny ability to hone in on very small details and tell a much larger story at the same time. In both his 'Pictures from Home' series of his parents and 'The Valley' pornographic sets, he created beautiful photographs, like stills from a film, that tell the story of the fine line in California between the glamour and the grim reality of the American dream.