The big smoke: there's more to Larry Bell's latest show than meets the eye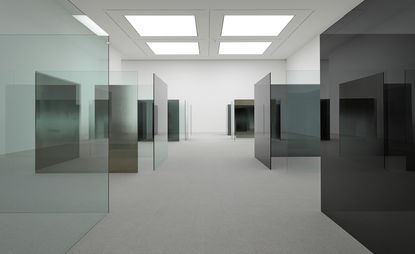 (Image credit: Ben Westoby)
Larry Bell is an illusionist. At the 77-year-old West Coast minimalist's fifth solo exhibition at White Cube's Bermondsey outpost, he promises to conjure 'Smoke on the Bottom' — or at least, something like it.

The show is arranged into three sections, grouping distinct bodies of works that serve as visual magic tricks in which Bell literally weaves light into sculptures. 'Smoke on the Bottom' centres on Bell's major work, 6 x 6 improvisation (1989-2014), an epic freestanding wall sculpture, first show in 2014 in Texas, now reconfigured for White Cube.

Forty clear, grey and metal-coated glass panels transmit, reflect and absorb the light in the gallery in different ways—both mesmerising and disorienting as you walk around. 'We made one end of the room darker than the other end, so there's a light differential that is a subtle as the gradient in the panels. I'm quite pleased with the way it came out,' explained the artist the unveiling of his exhibition.

Bell began his experiments with glass in the 1960s. At the time, he says, 'Glass was readily available, very few if any artists were working with it, so there was a chance to do something with a material that was not canvas and paint. It was inexpensive and had a shelf life of 3 million years – so it was a kind of material that had these magical qualities, and no-one else was playing with it.
To perform these kind of tricks, you need to know your materials to a scientific degree. Bell devised a unique coating process by teaching himself to use a specially-commissioned vacuum thermal evaporation machine (you can imagine his studio more like a chemist's laboratory.) He began to try coating on other materials. 'It had never occurred to me it could do exactly the same thing on paper as on the glass—except you couldn't see through it. When I realised it would stick to paper, I realised it was possible to make images using a technique that had never been done before.'

Bell's early 'vapour drawings', from the 1970s, are the first results of that breakthrough on view here, and they really steal the show. The image is simply created by gradients and optical effects, via a process that involves applying thin layers of aluminium and silicon monoxide, (a quartz-like material) that are vaporised onto their paper surface in varying thicknesses.

The results: forms appears to float on their surfaces, others seem to animate autonomously before our eyes, shapes come towards you and then retreat, and materials seem to flow into infinity, off their edges. 'It's the same process as going to a filling station and seeing a little gasoline on a puddle of water,' he explains. 'The various rainbow colours you see come from a varying thickness of the gasoline, where you see blue on the water, the gas is thinner than where you see red, so the same applied with the quartz-like material, I began doing these gradient things, trying to weave the light reflected off the paper into an image.'

Of course, Bell isn't only concerned with stunning his audience with visual alchemy, but over 40 years, he has shown us how symmetry affects our perspective and spatial awareness, both within a work of art, and as a work of art might relate to a particular architecture—of course, implying endless metaphors that challenge human perception.

Bell's newest works – his Church Studies, not seen in London before – combine laminate and Mylar film coated using a vacuum on red, black and white paper. 'The laminate film was hanging or draped over something, so the folds collect the vapour as it's being deposited,' Bell reveals. 'Every one of these pieces is made of 50 layers of materials on each of these collages. They get crispy like a saltine cracker and break easily – so I mount them onto a canvas.'

The works, remarkably, are voluminous, even having been submitted to this heated procedure. Prepare for your eyes to fool you.
INFORMATION
'Smoke on the Bottom' is on view until 18 June. For more information, visit the White Cube website (opens in new tab)
ADDRESS
White Cube
144-152 Bermondsey Street
London SE1 3TQ
VIEW GOOGLE MAPS (opens in new tab)
Charlotte Jansen is a journalist and the author of two books on photography, Girl on Girl (2017) and Photography Now (2021). She is commissioning editor at Elephant magazine and has written on contemporary art and culture for The Guardian, the Financial Times, ELLE, the British Journal of Photography, Frieze and Artsy. Jansen is also presenter of Dior Talks podcast series, The Female Gaze.