Kraftwerk perform at MIF, Manchester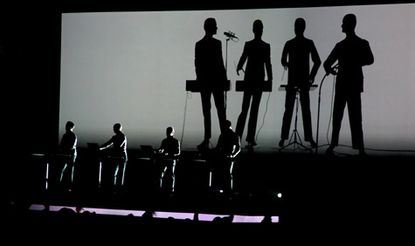 (Image credit: press)
A smarter match of bill and venue is hard to imagine. The 2nd Manchester International Festival (opens in new tab) opened last night with a double header of American minimalist composer Steve Reich (opens in new tab) and German electro-pop pioneers Kraftwerk (opens in new tab) at the city's Velodrome (opens in new tab).
See more images from the spectacular performance last night at Manchester's Velodrome (opens in new tab)
Built in the mid 1990s, the Velodrome is where Great Britain's track cyclists – straight out of 1980s sci-fi – have developed into world-beating whirligigs. So what better venue for Reich and Kraftwerk (opens in new tab)– though Ralf Hütter is the last of the original Kraftwerk still donning the masks and outfits.
Three decades ago, both composers became known for hypnotic, beautiful loops, repeated until they seemed to chime with some deeper, unknowable pulse. And for an almost Futurist celebration of transport and motion. And in both cases, it sounds as fresh and challenging as it did then, though perhaps as soundtracks to the now rather than an imagined future.
Reich presented a new 20-minute work, 2x5, while Kraftwerk ran through their hits – accompanied by 3D effects and ending – well it had to – with four of the all-conquering British Olympic cycle team looping the loop faster surely than god intended.
The major hook of the Manchester biennial (opens in new tab) is that it is the world's first festival comprised solely of brand new commissioned works and arrangements using major artists. And running through Sunday, 19th July, this year promises an impressive lineup of original exhibitions and performances from the fields of music, performing arts and visual art.
The highlights include 'Prima Donna', a new opera by Grammy-nominated singer/song-writer Rufus Wainwright (opens in new tab), who has teamed up with director Daniel Kramer and conductor Pierre-André Valade.
The pop–classical music marriage is a recurring theme at this year's Festival, with performances by Manchester's own Elbow (opens in new tab) and the multi-award-winning symphony Hallé Orchestra (opens in new tab); and Antony and the Johnsons (opens in new tab), accompanied by the 36-piece Manchester Camerata.
Other highlights include Marina Abramović's innovative four hour-long performance art exhibition; Zaha Hadid (opens in new tab)'s 21st-century Bach-specific concert space on the top floor of the neoclassical Manchester Art Gallery (opens in new tab); Theatre group Punchdrunk (opens in new tab), documentary maker Adam Curtis and Blur's Damon Albarn team up for "It Felt like a Kiss", a multi-media epic about half a century of American cultural power spread over five floors of a disused building; Lou Reed (opens in new tab) and Laurie Anderson performing together for the first time in the UK; and British artist Jeremy Deller (opens in new tab)
's procession through central Manchester.