Movie stills and Miró: John Baldessari goes to Hollywood for his latest London survey
Movie stills and Miró: John Baldessari goes to Hollywood for his latest London survey
John Baldessari and Marian Goodman are long-time collaborators. Though this is only his second show with Goodman's London outpost, the 85-year-old American art icon has had over a dozen shows with the gallery internationally since 1990.
His new survey comprises 25 movie stills, each paired with an unrelated Joan Miró painting. A seemingly random word – 'Apropos', 'True', 'Unfailing' – is printed across the bottom.
'Right', by John Baldessari, 2016. Photography: Joshua White
Making things even trickier to decipher, Baldessari is keeping the names of the original films close to his chest. You'd have to be a serious buff to recognise them all (or any), particularly with large sections blocked out by thick blobs of colourful paint, in Baldessari-bright blues, greens and reds.
Gallery director Valerie Blair confirms that we're not wrong in thinking that the exhibition teems with classic Baldessari wit and absurdity. 'The works are imbued with John's typical sense of humour – making puns, playing with the relationship between words and images, pop culture and high culture.'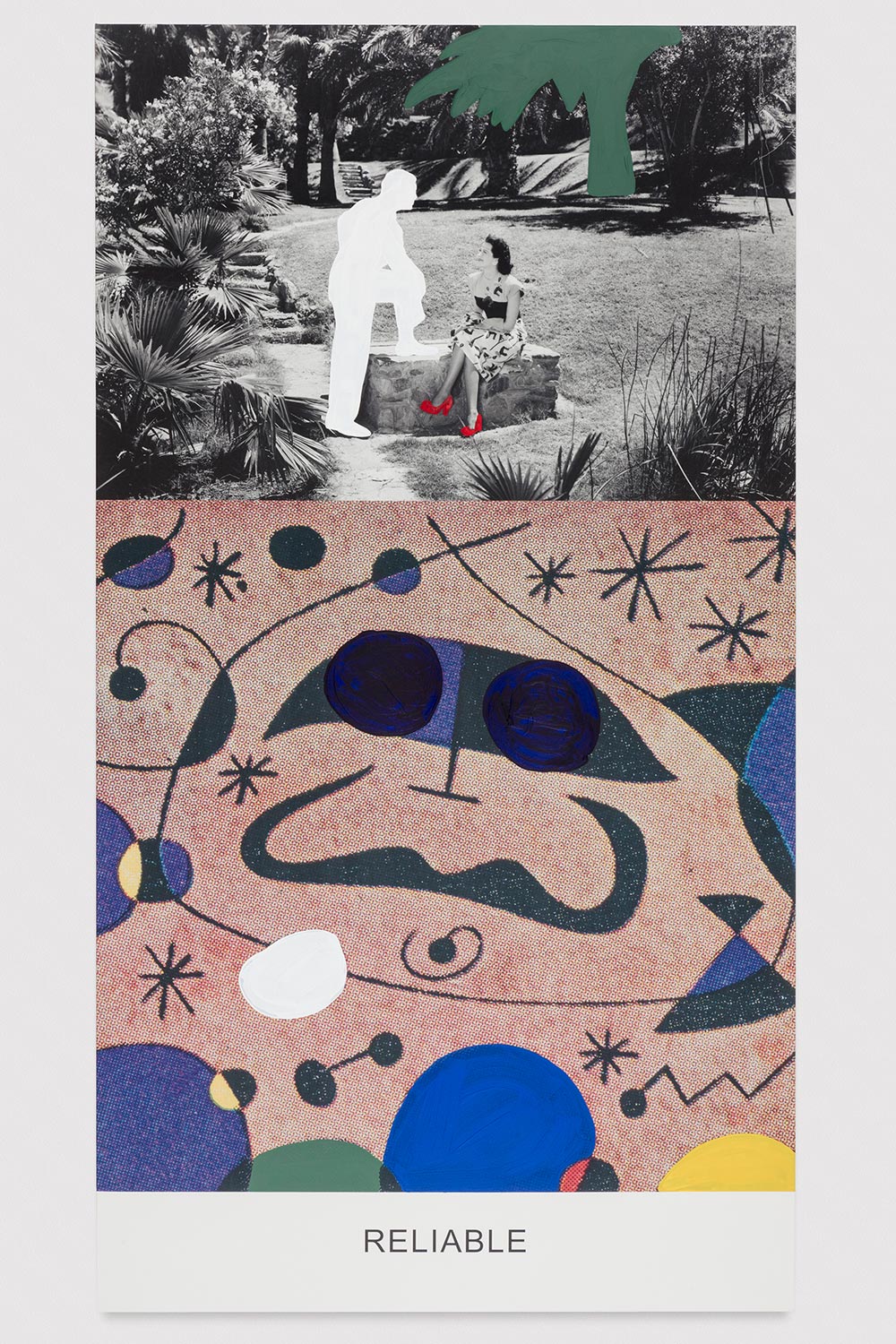 'Reliable', by John Baldessari, 2016. Photography: Joshua White
It's far from nonsensical, though. Blair notes something many of the private-view goers probably missed, whilst lunging for a mini hotdog or other such American-themed canapes – that the title of each work is a synonym of another. 'Necessary' and 'Incumbent', for instance. With this in mind, the exhibition becomes a conundrum that the viewers must work out. Baldessari, in Blair's opinion, is asking 'viewers to respond in their own way and to create their own new composite meaning'. In traditional Baldessari style, it's not the meaning, but the figuring out that's important.
Information

'Miró and Life In General' is on view until 25 February. For more information, visit the Marian Goodman website

Address

5-8 Lower John Street
London W1F 9DY

View Google Maps