The untold story of the architect who turned Spain's modernist power plants into art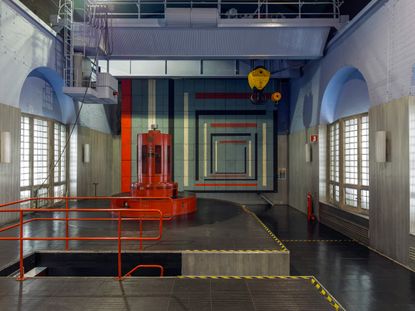 (Image credit: Luis Asín)
This is a tale of both a family and a country, and their heritages that spanned nearly half a century.
Deep in the Cantabrian Mountains, some 150 kilometres away from his hometown Oviedo in northern Spain, a young Joaquín Vaquero Palacios (1900-1998) used to travel around on horseback with his father, one of the founders of the Hidroeléctrica del Cantábrico company (now part of the EDP group). Here, immersed in resplendent scenery, they scouted for a location for what would become the second largest hydroelectric dam in Europe at the time.
But this was to be no ordinary dam. In the 1950s, Vaquero Palacios – now a trained architect, painter and sculptor – was entrusted by the company's management to use his creative mind to enhance the environment and condition of its facilities. Over the coming decades, he created some of the finest examples of 20th-century modernist Spanish industrial buildings, integrating technology, architecture, design and art.
Fast forward to 2018 and Joaquín Vaquero Ibáñez, the architect grandson of Vaquero Palacios, who some 18 months ago decided to bring this project to light. 'This body of work represents the futuristic vision from a very complicated period of Spanish history (the time after the Second World War and the end of the Civil War in Spain). People were able to break local barriers to impose intelligence, sensibility, modernity and an advanced vision of things,' he says.
Madrid photographer Luis Asín was commissioned to create a new series of visuals to document the dams' pharaonic dimensions. These images, alongside a selection of unseen old models, original sketches, period photographs and industrial objects, are now part of the exhibition (and accompanying book), 'Joaquín Vaquero Palacios – The Beauty of the Colossal, Asturias, 1954-1980', on view at the Museo ICO in Madrid.
Vaquero Palacios started working on Salime, the company's first plant in Asturias in the late 1950s, and later came the prosperous plants Miranda (1962), Proaza (1968), Aboño (1980), and Tanes (1980). Greatly influenced by both his native landscape and his journeys to places including New York, Mexico City and Rome, the multi-faceted creator designed buildings covered with façades of fractured concrete planes, showing clear influence of expressionist architecture, and designed concrete viewpoints from where to appreciate the monumentality of the dam.
The interior is adorned with design elements such as staircases that feature handrails made of electric-cable; a free-standing circular wooden pavilion, in an imitation of a turbine, is placed in the common area as the meeting place; and in the main turbine hall, a vibrant pair of murals cover each side of the room, a co-creation with his son Joaquín Vaquero Turcios (Vaquero Ibáñez's father). The architect affirmed that the integration of the arts in engineering was absolutely necessary: 'All our day-to-day activities are saturated so we need to be appeased in some way to survive the tensions which we are subjected to.'
The achievement is more than an artistic intervention: the creator has succeeded in transforming these spaces through art and architecture; he has dignified the workplace and eliminated the workers' sense of being buried in underground areas that can plunge as deep as 300 metres. 'The concept of Gesamtkunstwerk, which balances engineering, architecture, interior design, design and art is something that we should take more in mind in our world of specialisation. We need people with a more general overview of our actual problematics,' says Vaquero Ibáñez.
INFORMATION
'Joaquín Vaquero Palacios. La belleza de lo descomunal. Asturias 1954–1980' is on view until 6 May. For more information, visit the Museo ICO website (opens in new tab)
ADDRESS
Museo ICO
Calle de Zorrilla 3
28014 Madrid
Yoko Choy is the China editor at Wallpaper* magazine, where she has contributed for over a decade. Her work has also been featured in numerous Chinese and international publications. As a creative and communications consultant, Yoko has worked with renowned institutions such as Art Basel and Beijing Design Week, as well as brands such as Hermès and Assouline. With dual bases in Hong Kong and Amsterdam, Yoko is an active participant in design awards judging panels and conferences, where she shares her mission of promoting cross-cultural exchange and translating insights from both the Eastern and Western worlds into a common creative language. Yoko is currently working on several exciting projects, including a sustainable lifestyle concept and a book on Chinese contemporary design.