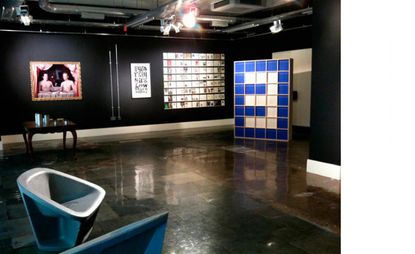 (Image credit: press)
Though print may have suffered of late, ink-on-paper still has its place. For proof, one need only ask Alex Bec and Will Hudson, co-founders, directors and editors of feast-for-the-eyes, online blog It's Nice That (opens in new tab).
Eschewing the web-centric trend, Bec and Hudson established a bi-annual printed version of It's Nice That at the beginning of last year - the third edition of which is to be released this month.
Featuring seven interviews with creative juggernauts including Milton Glaser, Tom Dixon (opens in new tab), filmmaker Keith Schofield (opens in new tab) and Paul Smith (opens in new tab) (who has supported the launch), the edition also includes a series of feature-length articles by a selection of It's Nice That's best-loved artists.
Highlights include an impassioned piece from artist Johan Lőfgren regarding his collection of vintage board games, alongside a feature from furniture designer Michael Marriott (opens in new tab), about his record collection.
As with the past two issues, It's Nice That #3 comes complete with an archive of the most interesting work featured on the website in the past six months.
In honour of the launch, Bec and Hudson have pulled together a week-long, 'pop-up' exhibition and shop within Paul Smith's London showroom, including original work from each of the seven interviewees, such as chairs from Tom Dixon's 2008 'Great Chair Giveaway' and a show reel by Keith Schofield.
ADDRESS
Paul Smith
Princes House
39 Kingsway
London
WC2B 6TP
VIEW GOOGLE MAPS (opens in new tab)