Inner reflections: new works by Lita Albuquerque invoke introspection in LA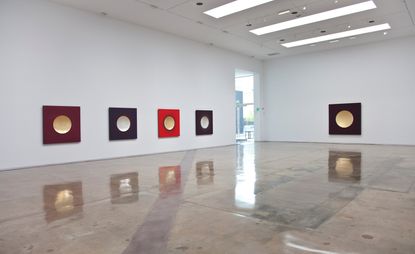 (Image credit: Kohn Gallery)
Lita Albuquerque's career stretches back to the 1960s, when she developed her praxis as part of California's Light and Space movement. She has always had a propensity toward remote, desolate environments; over the four decades she has been creating, she has installed works at epic locations, including the Antarctic, Death Valley and the Mojave desert, and at the Pyramids at Giza, often completed in collaboration with architects. (Among them Mitchell de Jarnett, with whom she worked on the largest public art commission in the history of the State of California, Golden State.)

Albuquerque's current solo exhibit, 'Embodiment' at Kohn Gallery in Los Angeles, although not on the scale of her public installations, is a more intimate reflection on the themes the artist has been investigating – part cosmologist, part mythologist – for her whole career. 'Embodiment' consists of new iterations of her renowned ephemeral pigment paintings – gold leaf on resin, on black and white pigment panels – and three sculptural works, all produced between 2015–2016. Taken together, they investigate variations of colour and light, the way they are absorbed and refracted in the world, and our subsequential perception of them.

Take the palette of tonal paintings that make up the main gallery: the colours you perceive are variations of rose madder (taken from lake roots), soft purple vesuvianite (originally found on Mount Vesuvius) and pigments used in Enogu, a centuries-old painting technique originating in Japan.

In the three sculptural pieces, each encased in a glass and steel pedestal, and using contrasting materials, heavy-looking obsidian is paired with honey and lustrous copper, while decomposed granite (commonly used to grit urban terrain) is combined with salt. The geological compositions of these substances seems as important to the artist as their aesthetic yield.

You don't need to get all of Albuquerque's references to the sciences; there is a pure poeticism in her gestures. As one stares into their shimmering circles, you experience a feeling of movement – from lakes to volcanic mountains, into the core of the earth and out, to the edges of the perceived universe. It is, as the artist puts it, 'the earth as a sculpture moving in space'.
INFORMATION
'Lita Albuquerque: Embodiment' is now on view until 5 March. For more details, visit the Kohn Gallery's website
Photography courtesy Kohn Gallery
ADDRESS
Kohn Gallery
1227 Highland Ave
Los Angeles, CA 90038
Charlotte Jansen is a journalist and the author of two books on photography, Girl on Girl (2017) and Photography Now (2021). She is commissioning editor at Elephant magazine and has written on contemporary art and culture for The Guardian, the Financial Times, ELLE, the British Journal of Photography, Frieze and Artsy. Jansen is also presenter of Dior Talks podcast series, The Female Gaze.