Idris Khan solo show, Göteborg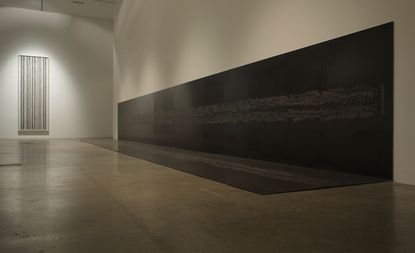 (Image credit: Idris Khan)
When the curator at Göteborg's Konsthall approached Idris Khan to take part in a group show he was planning based around 'repetition, time and things changing over time', London-based Khan jumped on the first plane out there, showed his recent work, and proposed that he take the whole space himself.
Göteborg Konsthall, who agreed that his work certainly answered their theme for the show, accepted Khan's proposal and his solo show, the first in Sweden, opened last week.
A selection of photographs, sculptures, drawings and videos are on display in the space, which, like all of Khan's work have a clear starting point in history and culture. Be it prominent literature, pieces of music or selected works from art history, Khan explains that he uses 'these to create works that call into question modes of appropriation, religion, authorship and abstraction.'
Take for example his sculpture 'Listening to Glenn Gould's Version of the Goldberg Variations while thinking about Carl Andre', 2010 (pictured above). A 10m long steel panel, comprised of a series of 30 steel panels aligned in two rows, with a continuous line of music (the Goldberg Variations) blasted into the rough surface. The sculpture's stripped-down simplicity is reminiscent of the works of Carl Andre, while the blasted notes suggest how classical musicians are constantly forced to reinterpret music. 'This is what I am interested in, the reinterpretation of something familiar,' he explains.
Göteborg Konsthall also plays host to three brand new photographic pieces which also take their queue from music. 'Different Trains', 'Contrary Motion' and 'Voices' are all inspired by Minimalist artists, such as Agnes Martin and Robert Ryman, as well as Minimalist composers Philip Glass and Steve Reich. The seemingly endless pattern with ever so slight changes in the repetition shown in these composite photographic works is a reference to the idea that these Minimalist art forms defined themselves as having no obvious ending and are what Glass refers to as 'open form'.
Equally, like the Minimalist work of the 1960s that Khan takes his inspiration from, the full impact of these complex images made through a painstaking process of photographic accumulation, cannot be fully appreciated until viewed in the flesh. And with the show running right through till 8th August, what more reason do you need to book in a long weekend in this most pleasant of Scandinavian cities.
ADDRESS
Götaplatsen
412 56 Göteborg
Sweden