Sergei Shchukin's modern masters reunite, for the first time outside of Russia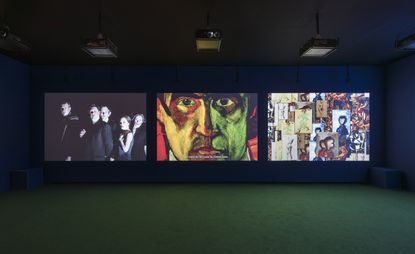 (Image credit: Martin Argyroglo)
In 1908, the Russian industrialist and insatiable art collector Sergei Shchukin opened the painting galleries of his residence in the Trubetzkoy Palace to the public every Sunday. Now considered among the most influential patrons of the 20th century, he had already amassed a significant number of works by Monet, Rousseau, Gauguin, Matisse and Cézanne, whose vision of modernity he respected above all.

He subsequently commissioned Matisse to create several new works including Dance and Music panels for his staircase, and invited the artist to Moscow to hang his pieces in what became known as the Pink Drawing Room. Arguably his most interesting collecting period occurred between 1912–14 when he discovered cubism and purchased roughly 30 works by Picasso. This shift was largely motivated by young Russian artists, who would come to study the paintings, subsequently launching their own shape-shifting movements of futurism and supremacism.
An extraordinary exhibition organised by the Fondation Louis Vuitton brings together 127 paintings, sculptures, collages and drawings from Shchukin's collection which, since 1948, had been divided between the Pushkin Museum of Fine Art in Moscow and the Hermitage Museum in St Petersburg (274 works belonging to Shchukin were nationalised in 1918 during the Revolution). Both museums are partners in the show, which came together in part thanks to the perseverance of his grandson, André-Marc Delocque-Fourcaud.

While the temporary reunion of French masterpieces under one rather remarkable, Frank Gehry-conceived roof of glass sails might be the main draw for most visitors, the addition of 31 works from the Russian avant-garde as evidence of the collection's influence carries no less significance. As Bernard Arnault, president of LVMH and the Fondation Louis Vutton notes in his preface, the value of this show comes partly from the desire to 're-create the visual and emotional "shockwave" that the collections gave rise to'.
Hence the counterpoint of Picasso's Peasant Woman with Buckets and a Child (1912) with Malevich's Woman with Pails, Dynamic Arrangement (1912–1913) – a cubist genre scene against a grouping of geometric shapes barely discernible as a female form. The theme 'Prototypes of New Painting' in the final gallery, where Cézanne's Mardi Gras depiction and Picasso's Green Pan and Black Bottle keep company with various works by Malevich, Olga Rozanova and Ivan Kliun, suggests all these radical proposals find new harmony from certain shared elements.

'It was thanks to the pressure [the Russian artists] exerted that he purchased so many Picassos in such a short period of time... he was dedicated to these artists,' explained curator Anne Baldessari to Wallpaper* during the preview. As former head of the Picasso Museum in Paris, she believes that this is the important takeaway aside from the obvious beauty of the impressionist and fauvist works. 'It was a powerful dialogue between them – he was already nearly 60 years old and these young artists wanted him to buy contemporary French art. The Picassos that were so austere, no one was buying them.'
Fast forward nearly a century, and there's a sense that the aesthetic borrowing between Russia and France is once again in motion, only in reverse. Today, we have Georgian designer Demna Gvasalia bringing an Eastern Bloc influence to French high fashion with Balenciaga and his own Paris label, Vetements. 'It was a perpetual confrontation,' noted Baldessari, adding, 'Here, we see how the history of art was built.' She was speaking of Shchukin's collection; but of course, out of all great art emerges so much more.
INFORMATION
'Icons of Modern Art: The Shchukin Collection' is on view until 20 February 2017. For more information, visit the Fondation Louis Vuitton website
ADDRESS
Fondation Louis Vuitton
8 avenue Mahatma Gandhi
75116, Paris
Receive our daily digest of inspiration, escapism and design stories from around the world direct to your inbox