The influence of graphic design on politics, protest and power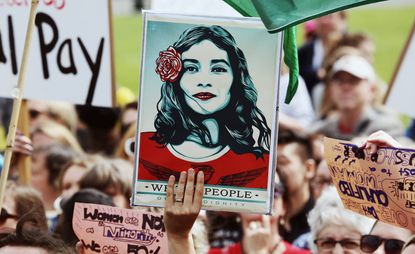 (Image credit: Andy McArthur)
Donald Trump, Vladimir Putin, and a giant inflatable rubber duck. The latest exhibition at London's Design Museum, 'Hope to Nope: Graphics and Politics 2008-18' (named after the iconic Shepard Fairey poster of Barack Obama, and the viral Trump meme, respectively) is shocking, surprising, and sometimes overwhelming.

A deep dive into graphic design of the last ten years – a decade that has seen catastrophic shifts in global politics, economy and the environment – the exhibition features everything from beer mats and badges to flags, posters and placards, with plenty of new media and technology, emphasised as perhaps the most insidious way to create and disseminate political ideas.
'One of our main aims with "Hope to Nope" was to demonstrate that graphic design makes a demonstrable difference and to foreground its role in how people are informed, educated, entertained and provoked,' asserts Lucienne Roberts. The graphic designer and author curated the show with fellow GraphicDesign& co-founder David Shaw, as well as Rebecca Wright and the Design Museum's Margaret Cubbage (a book by the same name has also been published by GraphicDesign&).

'New technology has in a sense democratised graphic design,' Roberts explains. 'Utilised by the marginalised and powerful alike, traditional media now rubs shoulders with the hashtag and the meme, making graphic design critical in giving everyone a political voice. Arguably, new technology has empowered grassroots activists but also resulted in targeted campaigns by political interest groups, designed to set people against one another and even destabilise political systems.'

Slogans reverberate off the walls: HOPE TRUMPS HATE, I'M IN, JE SUIS CHARLIE, I AM THE 99%. Organised into three sections (Protest, Power and Personality) 'Hope to Nope' makes the relationship between politics, technology and design apparent, moving from local to global campaigns, worldwide initiatives and more DIY forms of subverting the status quo, there is urgency, hilarity and absurdity here: not least in a rap video produced by the Chinese government.
'Hope to Nope' also reminds us of the success stories – moments that these designs propelled action. One reminder is the blue bra that was painted on the streets of Cairo in solidarity with the woman who was violently beaten by the military during civil arrest in 2011. The images proliferated online, garnering global media coverage, and prompting thousands of Egyptians to march into Tahrir Square.

Whether effective in their purpose or not, Roberts argues, graphic design – especially once out in the public space – is always political. Her own studio has worked with NGOs, trade unions and public health and education organisations. 'Graphic design is a carrier of messages, a tool of influence used to persuade. The question we have a responsibility to ask is, "Persuade to do what and to whose benefit?",' she says. 'Graphic design is rarely about graphic design after all.'
INFORMATION
'Hope to Nope: Graphics and Politics 2008-18' is on view until 12 August. 'Hope to Nope', £15, published by GraphicDesign& (opens in new tab). For more information, visit the Design Museum website (opens in new tab)
ADDRESS
Design Museum
224-238 Kensington High Street
London W8 6AG
VIEW GOOGLE MAPS (opens in new tab)
Charlotte Jansen is a journalist and the author of two books on photography, Girl on Girl (2017) and Photography Now (2021). She is commissioning editor at Elephant magazine and has written on contemporary art and culture for The Guardian, the Financial Times, ELLE, the British Journal of Photography, Frieze and Artsy. Jansen is also presenter of Dior Talks podcast series, The Female Gaze.