Frieze Masters 2016 shows the art fair's sister act is more affluent than ever
Plus highlights from the satellite fairs and exhibitions happening around London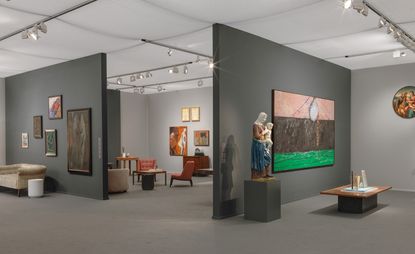 (Image credit: TBC)
Frieze Masters has a smaller, quieter, less fashion-conscious crowd than its big sister on the other side of Regent's Park – but it is no less an eye-popping experience. For what you lose in bombast, this fair makes up for in its pirate's hoard of riches.

It is a vast cornucopia spanning the globe and the ages with, this year, more ancient and world art than ever before. Where else could you pick up in a single sweep a near-perfect white Cycladic marble figurine dating to the fifth millennium BC (David Ghezelbash), a fantastic pair of De Stijl stained glass windows (Ulrich Fiedler), a museum-worthy room full of Ben Nicholsons (Richard Green), and a charming set of 19th century crayon drawings made on ledger book paper by American Indian warriors (Donald Ellis)?
The most rewarding section of the fair by far is the Spotlight area, where 21 galleries have boldly decided to focus on the career of a single artist. On the whole they are lesser-known artists from the 1950s to the 70s, including fascinating French feminist-cocoonist Francoise Janicot (Espaivisor) and Hungarian conceptualist Dóra Maurer (Vintage).

The quality of these stands is excellent, and the gallerists generally delighted to talk you through the artists' work and stories. Don't miss playing with the 'kinetic' paintings of Sérvulo Esmeraldo at Sicardi – who knew you could draw childish delight from such elegant minimalism?

But of course, there's plenty more action to be found around London during Frieze, if you find the need to escape the teeming crowds at Regent's Park.
Alternative fairs to remember
This year there is, as ever, up-to-the minute design inspiration at PAD, and affordable art alternatives at the Truman Brewery in Shoreditch (The Other Art Fair, Moniker Art Fair). For my money the best of all satellite fairs is 1:54 at Somerset House, a manageably sized selection of international galleries from Paris to Cairo to Nairobi, all specialists in contemporary African art. The quality is generally high, the aesthetic invigoratingly new, and often challenging therefore. This is where curators are eyeing up talent of tomorrow.
The vibe is great too – you stand a good chance of getting locked into a conversation with dealers and artists keen to introduce anyone and everyone to an artistic language still relatively new here. Don't miss: a really striking pair of warrior portraits with a contemporary twist by Eddy Kamuanga Ilunga (October Gallery), and the Arab Spring sketchbooks of Ibrahim El Selahi, who had a Tate show in 2013.
Scupture has a moment at satellite exhibitions
Giants of contemporary sculpture are having a showdown around London this year, with fantastic solo exhibitions from Antony Gormley at the White Cube to Tony Cragg at the Lisson Gallery. If you only see one show make it the Richard Serra at the Gagosian – three space-altering, mind-bending (one of them is literally like a riddle in space) new works from the master of metal. No need to rush to the Frieze Sculpture Park because it's extending opening time until January.
INFORMATION
Frieze Masters runs from 6 until 9 October 2016. For more information, visit the Frieze website (opens in new tab)
ADDRESS
Regent's Park
London NW1 4HG
VIEW GOOGLE MAPS (opens in new tab)