Henry Taylor escapes to the English countryside with Hauser & Wirth
Hauser & Wirth Somerset presents a new virtual exhibition of sculptural works and paintings by American artist Henry Taylor.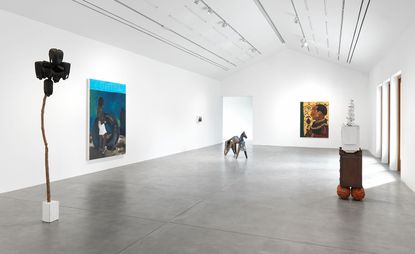 (Image credit: Ken Adlard)
'It's pretty much all over the place and I'm all right with that,' says Henry Taylor of his work in a film about his latest show. 'It's like the A side and B side – one side you want to grind to, the other you want to dance to.' This spring, the Californian artist brings what he calls his hunter gatherer approach to a major exhibition of works at Hauser & Wirth Somerset.

During the winter months, Taylor has been resident at the gallery, setting up in its studio space, The Maltings. Alongside pieces drawn from across the four decades of his career are new works created during his time in self-isolation, which explore ideas around confinement and freedom.
A series of tabletop sculptures made in the rural location over the last six months offer an altered perspective on urban planning and housing projects. Ephemera familiar throughout Taylor's work, such as painted black milk bottles and horse figurines, sit alongside objects that signify travel and movement – car tyres and tall ships. Hauser & Wirth's Pigsty gallery houses a series of the artist's miniature box paintings, including works created while the artist was still a student – domestic scenes painted on the surfaces of cereal boxes and cigarette packets.
Outside, the artist's first outdoor bronze sculpture is placed in the Oudolf Field. The figure of a human body in motion, its head replaced by antlers, the work relates to a conversation Taylor had with his brother Randy, a founding member of the Ventura County chapter of the Black Panther Party, about a racially offensive bumper sticker he had seen in the 1980s.

Taylor's own experience of self-isolation in the English countryside during the pandemic is reflected in two new self-portraits. In the first, we see the artist at home in his new rural Somerset environment, flanked by sheep and wearing a pair of striped pyjamas. In the second, Taylor, the youngest of eight children, nods to his childhood nickname, 'Henry VIII', with a regally styled portrait of himself as one of the most renowned kings in English history.
Portrait of my cousin GF: Dana Gallegos (2020) is one of several portraits on display embodying Taylor's empathy and warmth. The artist, formerly a psychiatric technician, is known for portraying ordinary people with the same reverence as he does public and pop cultural figures.

'Everything is inside of you, it just comes out. But it's always going to come, something is always going to permeate,' he says. 'I'm a sensitive individual, I respond to things.'
The exhibition is currently available to view online at hauserwirth.com and will re-open to the public on 13 April 2021 in accordance with government guidelines.
INFORMATION