Gregor Sailer's surreal photography: architecture at the margins of civilisation
In a new exhibition, 'Unseen Places' at Kunst Haus Wien, Gregor Sailer looks back at 20 years of working in inaccessible landscapes, sealed-off territories and restricted military areas.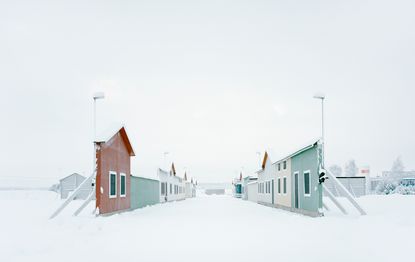 (Image credit: Gregor Sailer)
The places Gregor Sailer visits in his long-term projects are beyond perception, geographically and figuratively. They are sites where raw materials are extracted, political buffer zones, humanless landscapes, 'backdrop' cities, and areas of camouflage and deception.
His photographic journeys are preceded by meticulous research and often years of preparation to reveal the dynamics that lead to the existence of these places. Sailer presents them in a reduced, calm and deserted visual language.
Titled 'Unseen Places', the thematic exhibition in the Kunst Haus Wien orchestrates parts of six of Sailer's photographic series across two floors. The works span from his beginnings of shooting underground spaces in German cities (Subraum) to his latest project, The Polar Silk Road, which culminated in an impressively illustrated book, including a collector's edition, published by Kehrer Verlag.
Curated by Verena Kaspar-Eisert, the exhibition opens with images from The Potemkin Villages that capture the deceptive phenomena of settlements constructed of nothing more than cheerfully painted façades and the Russian myth that underpins them. With images of backdrop cities used for military close combat training and vehicle testing in the USA and Europe, as well as the detailed replicas of European cities in China, Sailer's pictures give the viewer access to the world of fakes, questioning absurd excesses of contemporary society.
'Three images printed oversized on tarpaulins demonstrate the tension between truth and deception even more drastically,' explains Kaspar-Eisert. While Sailer's work often takes him to remote, inhospitable parts of the world, he doesn't shy away from unravelling the oppressive truths at his doorstep. This is potent in The Box, which illuminates a dark chapter in Schwaz, Tyrol, where the photographer was born in 1980. During the Second World War, forced labourers worked in historic underground mine tunnels, which became a factory for building aircraft. To light these tunnels, and their complex history, Sailer brought his equipment 2,000m underground.
While the series Closed Cities highlights artificially created urban zones hermetically sealed off from the outside world, The Polar Silk Road deals with the economic exploitation of the Arctic regions. Enduring snow storms and minus 50°C temperatures for over four years, Sailer documented research stations and oil platforms, but also the silent arms race in the neighbouring countries, making the global power struggle for the Arctic economic area tangible.
Sailer describes his curiosity in capturing the structural transformation of the landscape and the complex political, military and economic implications of architecture: 'I'm much more interested in transporting substantial content via architectural objects than I am in showing people,'
Sailer's father worked as an architect, offering him formative access and sensitisation to architecture, space, spatial effects, and the context of light and landscape from an early age, and now form the characteristics of his work: diffuse light illuminating spaces and the voids of shadows. This is how the architecture comes into its own, he says. Giving the objects space and rarely getting caught in the detail; quiet, poetic transcendence reigns in Sailer's often surreal images. Using only one shot per subject, he's a perfectionist in taking images with his analogue, large-format camera. 'It's very slow and static, and I have to accept the basic prerequisites for the setting, the geography and the elements,' Sailer says of his process.
Alluding to the austere eeriness in his images, curator Kaspar-Eisert comments: 'Gregor Sailer is not an artist who makes it easy for his audience. He challenges because his work is so concentrated and precise... Sailer doesn't allow you to look the other way.'
INFORMATION
'Unseen Places' is on view at the Kunst Haus Wien, Vienna, until 19 February 2023, kunsthauswien.com (opens in new tab); gregorsailer.com (opens in new tab)