Call of the wild: Giuseppe Penone is in his element at Château La Coste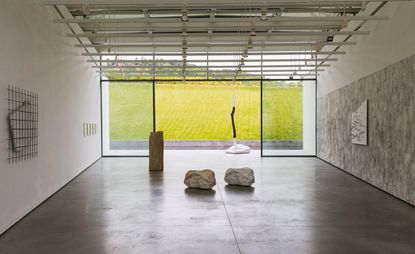 (Image credit: press)
Wallpaper* Newsletter
Receive our daily digest of inspiration, escapism and design stories from around the world direct to your inbox
Thank you for signing up to Wallpaper. You will receive a verification email shortly.
There was a problem. Please refresh the page and try again.
Revealed earlier this month, a series of recent works by Giuseppe Penone is being exhibited in the Renzo Piano-designed pavilion at Château La Coste, the sumptuous Provençal property that combines vineyards, hospitality and large-scale contemporary art.

But before entering the compact architectural space – located just steps beyond Frank Gehry's reconstructed Serpentine Pavilion from 2008 – visitors will confront two of Penone's works that have been placed outside. The first consists of a barren bronze tree rising nearly 13m, into which a massive rock precariously nestles, with a second rock resting safely on the ground. The other is a giant slab of upright Carrara marble sculpted with veined patterning in low and high relief – either mimicking the stone itself or else a vaguely anthropomorphic reference.

If it seems obvious that these works are in dialogue with their surroundings – a leafless tree amid a verdant setting, the marble's irregular peephole offering a picturesque view to an expanse of vines – Penone alternately points out his intention to communicate with the architecture. The slab, by complete coincidence, picks up the exact sloping line of Piano's exterior concrete wall, while the tree begins another perspective line to his marble and bronze trunk sculpture at the rear side of the sunken building, where a narrow reflecting pool and grassy knoll fill the backdrop.

'You see a link created with the elements of the space,' notes the artist, who began his tireless career nearly 50 years ago as a young member of the Arte Povera movement. While the two Italian talents have known each other for some time, they have never directly collaborated; for the exhibition programme, the architect volunteered a sketch of the project.
Installation view of 'Giuseppe Penone: Des Corps de Pierre'
Speaking with Wallpaper* from the lobby of the Villa La Coste hotel, perched above the pavilion, Penone explains how this presentation of eight works, including five recent drawings, furthers his expression of identity via elemental materials both large (one sculpture weighs nearly a tonne) and small (a natural grain of sand accompanied by a sculpted counterpart). Within the title Des Corps de Pierre ('The Bodies of Stone') is the notion that no two bodies – not natural river stones, not even pencil dots on paper – can be considered identical.

'There is not a grain of sand that is identical to another. To try and make two identical grains, you introduce a system in the world that is completely artificial,' he says, adding how this one – ostensibly identical to the human eye – involved the assistance of a nanotechnology expert in Grenoble and that future versions will be even more indistinguishable. 'In language, there aren't actually that many possibilities to recognise the visual characteristics [of stone] like with humans or animals. So we always try to understand these things with our own bodies and our thoughts.'

This sentiment accounts for his drawing of four coloured marks at the centre of a pointillist eye, as part of a series called Identità ('Identity'). Arguably, however, within the context of Piano's gallery, where natural light fills the space indirectly, Penone's ideas need not be fully grasped to be appreciated. What registers most is how the compositions feel deeply grounded – or else penned to the walls – making his presence felt in ways both substantial and metaphysical.

His recurring depiction of trees confirms as much: 'It's a living form that memorises its entire existence in its structure. It's a perfect sculpture that is able to show the necessity of its life. It's this perfection that allows it to function anywhere – whether placed in a desert or a forest.'

On that note, once the exhibition ends and his trees have been uprooted, does Penone feel he will have left a trace on the property? 'Of course,' he replies enthusiastically. 'I have been walking on the soil of the vines many times. That soil will remember that I have been there.'
INFORMATION
'Giuseppe Penone: Des Corps de Pierre' is on view until 26 November. The next exhibition at Château La Coste, 'Your Way' by Jeppen Hein, opens on 30 September. For more information, visit the Château La Coste website and the Marian Goodman Gallery website
ADDRESS
Château La Coste
2750 Route De La Cride
13610 Le Puy-Sainte-Réparade
Receive our daily digest of inspiration, escapism and design stories from around the world direct to your inbox