Gillman Barracks: Singapore's new contemporary art centre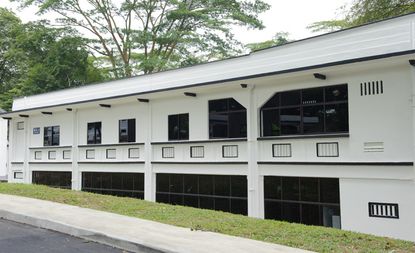 (Image credit: Courtesy of Singapore Economic Development Board)
While Hong Kong's art world has seen a steady stream of gallery openings in recent years, its cultural rival Singapore is hoping to vault ahead with its freshly opened 4,800sq m contemporary art hub of 13 international galleries.

Gillman Barracks, a colonial-style 1930s arcade named after the British general Webb Gillman, is the site of the £5 million refurbishment by the public developer JTC. The complex houses a series of lofty exhibition spaces, palm-fringed cafes and the inaugural Centre for Contemporary Art, where artists, curators and collectors are invited to congregate, lecture and work in residence.

Artists who spoke to visitors over the opening weekend included Christian Thompson and Zhang Enli, along with curators Hou Hanru, David Elliott and Charles Merewether.

Gillman is Singapore's latest scheme in a recent strategy of 'cluster development', which wrangles cultural attractions into high-impact destination-enclaves. The development has lured in major Asian galleries well known to international fairs like Frieze and Art Basel. ShanghART, Kyoto's Tomio Koyama and Manila's The Drawing Room take up spaces, as well as new galleries by Janice Kim (formerly of Seoul's Kukje Gallery), and Deddy Irianto of Indonesia's Langgeng.

Those tenants bring with them a reserve of top talent. The Tokyo gallery Ota Fine Arts launched with an exhibition of Yayoi Kusama's work titled 'Metallic'. Berlin's Galerie Michael Janssen leads with the 12-minute film 'Stereomongrel (2005)' by Luis Gispert. And Sundaram Tagore, the only New York gallery on site, opened with a collection of photographs by Henri Cartier-Bresson, Annie Leibovitz, Robert Mapplethorpe and Sebastião Salgado called 'The Big Picture'; Sundaram Tagore has the barracks' largest space at 390sq m.

The cluster strategy may prove particularly potent at Gillman, where commerce intersects with research, invention, tourism and academia (the Centre for Contemporary Art was spearheaded by Nanyang Technological University). Singapore is a natural draw for up-and-coming galleries hoping to tap into the region's growing wealth. It doesn't hurt that the barracks offer the antithesis of the modern Asian gallery experience, set as they are amid a literal jungle rather than a concrete one.

On top of the current 13 galleries in house, two more will be launching in the new year: Tokyo's Kaikai Kiki, which represents Takashi Murakami, and Pearl Lam, by the prestigious Chinese gallerist who opened her Hong Kong gallery earlier this year.

That's not to say only foreign artists enjoy a platform here. Gillman's anchor tenant is the local-owned Fost Gallery, whose inaugural exhibition '(Untitled) Singapura #90' displays the work of seven contemporary Singaporean artists.
ADDRESS
Gillman Barracks (main building)
9 Lock Road
Singapore 108937
Singapore