Gallery Libby Sellers inaugrates new London space with works by Formafantasma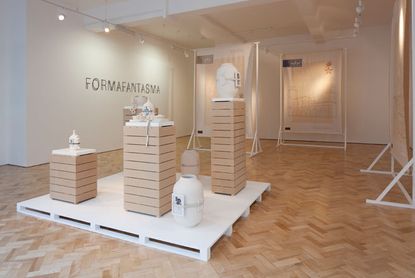 (Image credit: Press)
Once upon a time admirers of Libby Sellers were made to follow her, like 1990s ravers, to temporary locations across London, where she would hold exhibitions featuring Europe's most progressive designers. She championed Stuart Haygarth (opens in new tab), Moritz Waldemeyer (opens in new tab) and Julia Lohmann (opens in new tab) at her Exhibition Road location during the 2007 London Design Festival; and last year she hosted Fabien Cappello (opens in new tab)'s recycled-wood Christmas Tree Project in Hyde Park Corner before - poof - disappearing once again.

This month, however, the former Design Museum curator is finally settling down, in a permanent space on London's Berners Street (opens in new tab). Her inaugural exhibitions continue her provocative tradition. Until 8 October she will devote a swath of the new space to Formafantasma (opens in new tab), a duo of Eindhoven-based Italian designers who explore the complex cultural relationship between southern Italy and colonial Africa.

'It is the perfect show to open with,' says Sellers, 'because it sets the benchmark for what I hope my forthcoming exhibitions will be able to do - reveal beautifully made but very political and social work carrying a deep narrative and many layers.' Formafantasma's Andrea Trimarchi and Simone Farresin will show not only their acclaimed ceramics series but also their mounted mohair textiles, each depicting a different Italian colony in Africa.

Sellers also invites Belgian gallerist Caroline Van Hoek (opens in new tab) to guest-curate Woods, the work of 21 jewellery artists designed exclusively in wood. The buffed-wood beads beautifully echo the heritage theme of the Formafantasma show, yet they seem appropriately up to date for a 2011 London Design Festival (opens in new tab).
ADDRESS
Gallery Libby Sellers
Ground Floor
41-42 Berners Street
London W1