'How could I forget you?' Galerie Perrotin hosts a group love letter to Mexico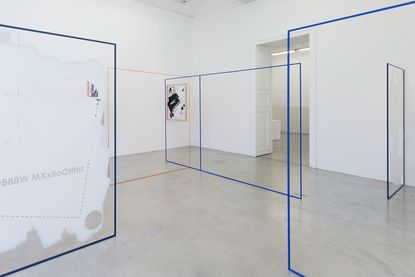 (Image credit: Claire Dorn, Abigail Huerta and Agustin Arce)
All three of Galerie Perrotin's Parisian spaces are currently given over to the group exhibition '¿Cómo te voy a Olvidar?' – an ode to the variety and vitality of contemporary Mexican art.
Galerie Perrotin has made a bold declaration of love for Mexico with a new group show, spanning all three of its Paris gallery spaces.

Amorously titled '¿Cómo te voy a olvidar?' ('How could I forget you?'), the exhibition is the brainchild of gallery director Peggy Leboeuf. Gallery owner Emmanuel Perrotin invited Leboeuf to create a show of her choice to celebrate her 20th year at the gallery. Having been charmed by her experiences of Mexico City during a visit to the Museo Tamayo in October 2014, Leboeuf decided on an homage to Mexico.

Leboeuf and co-curator Anissa Touati spent two years travelling through the country to learn about its contemporary art scene, meeting with curators, critics, museum and art school directors and the like. They also visited each of the 16 artists whose works now appear in the exhibition. They are a mix of emerging talents and established names, and represent a broad range of styles.

Bursting with colour, Yann Gerstberger's tapestries are made from both cotton yarn and reclaimed vinyl banner; a perfect metaphor for a country that is simultaneously contemporary and imbued in history.

The more subdued works of Ana Bidart, on the other hand, discover beauty in found objects that usually escape our attention – among them the inkwell and the passport.

Curvaceous and seductive, the stretched tights of Martin Soto Climent stand in marked contrast with the rugged, architectural assemblages of Gwladys Alonzo.

Méndez Blake extols the inspirational force of literature with sculptures that nod to French novelist Georges Perec, whereas José Davila awes with gravity-defying assemblages that suggest a deep appreciation of physics.

A few pieces tend toward pessimism. The viewer's eye is inevitably caught by Fritzia Irìzar's Phrygian cap – a symbol of the anti-colonialist movement in Latin America – rendered in chain mail as a commentary on the transience of freedom in a forgetful society. Likewise, in documentary-style videos showing serene, yet sinister landscapes, Edgardo Aragón laments the fate of indigenous peoples, ponders on ideological conflicts and mourns political dissenters who had been disappeared by the Mexican government in the 1970s.

The show nonetheless ends on a joyful note, with a pair of paintings called Yo te amp más ('I love you more'). Ariel Orozco took painted two canvases, one in gold and one in silver, stuck them together face-to-face and tore them apart after two weeks. Flecks of gold are layered on the silver canvas, and vice versa – just as the art worlds in and outside of Mexico have discovered each other, and both come out more vibrant and fascinating.
The exhibition includes 16 artists with varying connections to Mexico – some were born and raised, others have chosen it as a place to live and work. Pictured: Fritzia Irízar's room references the Phyrgian cap, an anti-colonial symbol in Latin America. Rendered in chainmail and iron, their rigid forms suggest the fossilisation of democratic ideals in contemporary society.
For two years, gallery director Peggy Lebeouf and curator Anissa Touati travelled through Mexico to meet with each of the 16 artists exhibited, including the Uruguayan-Mexican Ana Bidart, whose work incorporates found objects that usually play an invisible role in our lives.
A mix of established and emerging artists feature in the exhibition – among the former is Martin Soto Climent, known for exploring the allusive potential of day-to-day objects.
Video artist Edgardo Aragón depicts scenes that are simultaneously serene and sinister, and in doing so invites reflection on violent episodes of history. Pictured: a still from El paso, hombre invisible, a portrait of bison in a North American national park and a meditation on the invisible, indigenous peoples who have ceased to live with them.
A still from Aragón's Exterminio, in which floating detritus alludes to disappeared political dissenters whose corpses were dropped into the Pacific in the 1970s.
Dr Lakra's art is imbued with nostalgia for the relative political innocence of 1950s Mexico. Pictured left: Sin título / Untitled (Midlands sun maid), a pin-up that the artist has graffitied with a menacing skeleton. Right: Untitled.
In the foreground, sculptures by Pia Camil, who appropriates small segments of abandoned billboards as a critique of consumerism. Flanked in the background by Drawing the national emblem erased, by artist collective Tercerunquinto.
Two works, both entitled Yo te amo más, by the Cuban-born Ariel Orozco. A canvas of silver and one of gold were stuck together for several weeks and then torn apart to create this mesmerising pair of paintings.
José Davila's assemblages are a feat of physics as well as aesthetic composition. Pictured: Untitled, which has a mirror, boulder, rock and concrete blocks balanced precariously on top of each other and held together by a ratchet strap.
The exhibition is the brainchild of gallery director Peggy Leboeuf, who was given free rein by owner Emmanuel Perrotin to create any show in gratitude for her 20 years of service.
The exhibition is the brainchild of gallery director Peggy Leboeuf, who was given free rein by owner Emmanuel Perrotin to create any show in gratitude for her 20 years of service.
One of the best known artists to feature in the show, Jorge Méndez Blake's sculpture examines the way in which we construct our cultural heritage, by way of forging connections between literature and architecture.
Juxtaposing natural objects with neon lights in geometric or mathematical forms, Gabriel Rico's work ponders our relationship with nature.
INFORMATION
'¿Cómo te voy a olvidar?' is on view until 30 July. For more information, visit Galerie Perrotin's website (opens in new tab)
Photography: Claire Dorn, Abigail Huerta and Agustin Arce
ADDRESS
Galerie Perrotin
76 Rue de Turenne,
75003 Paris
8 Impasse Saint-Claude
75003 Paris
VIEW GOOGLE MAPS (opens in new tab)
TF has been editor of Wallpaper* since December 2020. He is responsible for our monthly print magazine, planning, commissioning, editing and writing long-lead content across all our content pillars. He also plays a leading role in multi-channel editorial franchises, such as our annual Design Awards, Guest Editor takeovers and Next Generation series. He aims to create world-class, visually-driven content while championing diversity, international representation and social impact. TF joined Wallpaper* as an intern in January 2013, and served as its commissioning editor from 2017-20, winning a 30 under 30 New Talent Award from the Professional Publishers' Association. Born and raised in Hong Kong, he holds an undergraduate degree in history from Princeton University.