'The Friday Workshop': a superlative Mexican group show at Kurimanzutto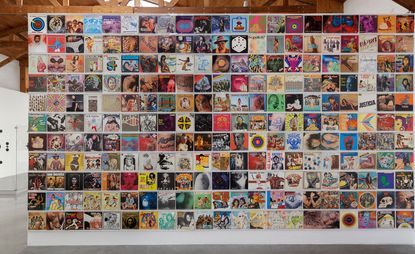 (Image credit: Omar Luis Olguín)
Every Friday between 1987 and 1992, the then-emerging Mexican artists Abraham Cruzvillegas, Damián Ortega, Dr Lakra and Gabriel Kuri would gather at the Tlalpan home of the slightly older Gabriel Orozco to talk, eat, drink and make work. 'It was not a salon, they chose to come to my house – I think they chose me as a professor, but I never planned [it]. They were younger than me, still in school, but it ended up being nice,' recalls Orozco of what became known as the Taller de los viernes ('The Friday Workshop'). 'We all grew older, but we are still friends, and this is the first time we've all shown together.'

By 'this', Orozco is referring to 'Xylañynu: Taller de los viernes', a group show that opened this week at Mexico City's Kurimanzutto gallery. 'We like to work together with the gallery as the centre, because in a way the core of the gallery came out of these workshops,' says Orozco, smoking a cigarette during the opening, which Kurimanzutto co-founder Jose Kuri encourages him to stub out on one of his brother Gabriel Kuri's four painted steel this, please sculptures.

For 'Xylañynu', the five artists gathered together again for three Fridays last December, drawing ten cards each as a method of picking the works to be included in the show. 'We didn't know how to choose the work, but I like to invent games,' Orozco explains. 'A lot of my work has to do with games, so instead of photos and portfolios [we made] a selection of works kind of by chance.'

They then called on curator (and Workshop mentor) Guillermo Santamarina to help them apply some coherence to the show, so it didn't feel like a survey or an exhibition of the old works. 'We wanted to avoid a nostalgia frame,' says Santamarina. 'The result is a very peculiar scenario, similar to a modern cityscape.'

Despite the group's history, the exhibition is comprised of works drawn from the last two years, and opens with a pink and green checkered Volkswagen that references a samba club in the favelas of Rio. From there, visitors will find Kuri's minimalist, cigarette-stubbed sculptures spread throughout the courtyard, a display of tattoo-named-or-themed album covers collected by Dr Lakra and some steel interpretations of street graffiti by Ortega attached to brick walls.

In the main gallery, Ortega hollowed out an eight-foot styrofoam cube – visible through a nine wall, tempered glass installation by Orozco – and scattered the white 'ashes' in a pile on the gallery floor like a hill of cocaine, itself raked into rivulets by Santamarina.

'I said we need something more crazy in this show to lose control because every piece is very cerebral and intellectual. I thought it would be interesting to create some chaos and a different relationship with the space,' Ortega explains right before the power goes out, setting off a frenzy of iPhone flashes and blackout Instagrams. 'The Eternal Flame went out!' says Ortega, referring to Kuri's titular 2010 piece, made from a can of Burn energy drink, the flame logo of which spins indefinitely on a treadmill.

While Santamarina recalls some 'fantastic collaged recycled wood panels [by Orozco and Cruzvillegas]; some very funny paper cartoons [Ortega, Lakra and Cruzvillegas]; very enigmatic constructions or tridimensional paintings [Kuri]; extraordinary found object sculptures [Orozco, Kuri, Ortega and Cruzvillegas]; and exquisite landscape and action-registration photographs [Orozco]' emerging from the original workshops, his lasting impression of the Workshop is more existential: 'Sincere friendship and deep complicities are fruitful and profound.'

Judging from the deep hug Orozco gives him during the blackout, he isn't alone in this sentiment.
INFORMATION
'Xylañynu: Taller de los viernes' is on view from from 6 Febraury – 17 March. For more information, visit Kurimanzutto's website
Photography: Omar Luis Olguín. Courtesy the artists and Kurimanzutto, Mexico City, 2016
ADDRESS
Kurimanzutto
Gob. Rafael Rebollar 94
Miguel Hidalgo
San Miguel Chapultepec I Secc
11850 Mexico City.