Francesco Vezzoli sings a new song for one night only at the Centre Pompidou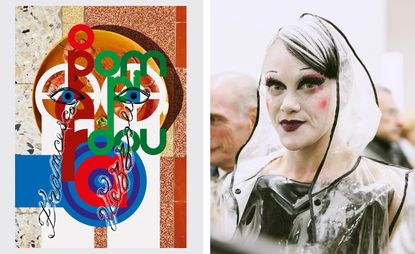 (Image credit: Servan Ilyne)
Wallpaper* Newsletter
Receive our daily digest of inspiration, escapism and design stories from around the world direct to your inbox
Thank you for signing up to Wallpaper. You will receive a verification email shortly.
There was a problem. Please refresh the page and try again.
A night at the museum collided with a night at the opera last week in Paris thanks to Francesco Vezzoli and the Amis du Centre Pompidou. As a continuation of the festivities marking the Centre Pompidou's 40th anniversary, the Friends of the Museum gave carte blanche to the Italian artist, who turned the fifth floor permanent collection into a series of fantastic tableaux vivants.

To achieve his one-off Opéra Pompidou, Vezzoli recruited 12 singers and 10 musicians from the Académie de l'Opéra national de Paris, assigning each pair a familiar aria or nostalgic song that they performed in the presence of a modern masterwork. He called up pal and patron Miuccia Prada to costume his dramatis personæ, a diverse group that included Gertrude Stein, Elvis Presley and Anne Boleyn. He asked the ever-charming choreographer Stephen Galloway to nudge a little extra frisson out of the moment. And he reached out to M/M Paris to conceive a limited-edition libretto and poster. Amid all the events organised to seize on people in town for FIAC, this one was a work of art in its own right.

And it was engaging in all respects. Guests dashed from performance to performance, catching a street style Arlequin singing 'O sole mio next to Matisse's Luxe, calme et volupté (1904) only to discover a reincarnation of Robert de Montesquiou, the dashing early 20th-century bon vivant, serenading people with Verdi's La donna è mobile beside Francis Picabia's smiling nudes with a bulldog and André Derain's portrait of his wife, Alice (a cheeky staging, to be sure).
By placing the Elvis-like character against the backdrop of Andy Warhol's portraits of Elizabeth Taylor, where he sung Maria from West Side Story, Vezzoli dialled up the camp (Galloway coaxed a hip swizzle from tenor Juan de Dios Mateos), while mezzo-soprano Farrah El Dibany in the role of Madame de Pompidour seduced the crowd with an enchanting rendition of Bizet's Carmen sung to Picasso's Harlequin (1915).

The mood turned sober as Danylo Matviienko's Jean Cocteau ended Tchaikovsky's Again, as before, alone by taking the knee in the shadow of André Masson's Gradiva (1939). In a sumptuously black coat and heels embellished with feathers, singer Jeanne Ireland – taking on the role of the late Luisa Casati – held her own against Niki de Saint Phalle's outsized plaster bride.

As each took their turn, the alto and soprano voices echoed through the dimmed galleries, which only further animated the art. Giacometti's long nosed sculpture looked as though he were smiling along with the activity; the colours of a Kandinsky seemed to vibrate as though channeling the violin.

At once intimate, inspired and indulgent, it was Vezzoli at his theatrical best. And while he proved difficult to locate in the moment, more present later during the after-party, Galloway happened to be on hand and graciously steered me through the sequence, offering some intel along the way. Rehearsals in the space, for instance, only began two days before the show.

Having collaborated once before with Vezzoli for a performance featuring Lady Gaga and the Bolshoi Ballet at the Museum of Contemporary Art in Los Angeles, he noted how the setting here introduced a completely different dynamic. 'When you come into an established space like this, all the preparation you can have is just the understanding that it is all going to change,' he said, as we passed Vezzoli's living version of Ingres' Madame de Moitessier (1844–1856) in a draped floral gown, soprano Angelique Boudeville, who later sang Puccini. 'It's the luxury of these types of situations versus a staged theatre situation; you can build it from the beginning.'

To signal the finale, Bernard Blistène, director of the Musée National d'art Moderne sang a lively duet with the museum's head conservator Véronique Sorano-Stedman. That these esteemed figures could carry a tune with such talent no doubt surprised the crowd. Quite simply, Vezzoli pulled off a brilliant celebration in which every moment felt surreal.
INFORMATION
For more information, visit the Société des Amis du Musée National d'art moderne Centre Pompidou website
Receive our daily digest of inspiration, escapism and design stories from around the world direct to your inbox