Fondazione In Between Art Film: a cinematic celebration of time-based media in Venice
Beatrice Bulgari's new foundation, championing time-based media, takes over a disused hospital with a surreal group exhibition during the Venice Biennale 2022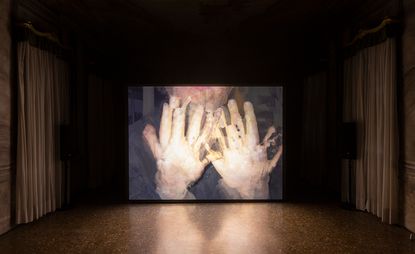 (Image credit: Courtesy of the artist, the Estate of Horst Ademeit, and Fondazione In Between Art Film. Photo: Andrea Rossetti)
Fondazione In Between Art Film, founded in 2019, looks to establish long-term relationships with artists working in time-based media through commissioning and exhibiting their work. While these long-form artworks are usually screened individually, the foundation has staged a large group exhibition during the 59th Venice Biennale, which has proven a perfect way to introduce its mission to a wider audience and showcase the work it has been doing throughout the pandemic.
'Penumbra' features eight film works, installed at the unique Complesso Dell'Ospedaletto. The former hospital, built in 1517 and subsequently adapted to accommodate the needs of a modern hospital until it was decommissioned in the 1950s, makes for a surreal and filmic setting, mixing the historic with the modern in a way that is unique to Venice.
Bulgari worked as a costume designer for many years before establishing the foundation. Over the course of this extensive career, she mixed with legends such as Michelangelo Antonioni and Federico Fellini, who gave her an understanding of both the mechanics and vision required to realise a film of any kind.
'It was a very special moment in the late 1970s and I had the opportunity to talk with the greats, to see a lot of films, and discuss film with them. So, these were very, very exciting years… I was hooked. I already collected art but began to focus on art film,' Bulgari tells Wallpaper*.
'Penumbra', curated by Alessandro Rabottini and Leonardo Bigazzi, features work made between 2021 and 2022, addressing the issues we have been facing as global and local communities.
'We didn't work with a narrative in mind,' said Rabottini as the exhibition opened to the public. 'We started thinking that it would have been nice to make a show, because what we do is kind of immaterial, like moving images. But paradoxically, this immaterial medium requires very specific conditions to be understood. So we thought we needed to use the medium of the exhibition to manifest the work of the artists we're working with.'
James Richards' Qualities of life (Living in the Radiant Cold), 2022, sees a glitching series of medical tubes, paraphernalia, degraded scenarios and obsolete plastics drift by to a song of 'my, my, my apocalypse', evoking the dulled nostalgia of lockdown memories. Also in this vein is He Xiangyu's House of Nations, 2021, in which we follow a young man around Berlin, his existence mostly solitary and punctuated with sensory encounters including shibari and cold-water swimming.
A standout work is Jonathas de Andrade's Olho da Rua (Out Loud), 2022. Cast from the homeless community in the artists' hometown of Recife in Brazil, part fact, part fiction, part musical, the film encourages this community to discuss issues of identity, class and visibility, mixed with music and visuals evocative of Brazilian culture.
The works were installed in the space by architect Ippolito Pestellini Laparelli of 2050+, who used a light touch to elevate the filmic qualities of Complesso Dell'Ospedaletto to create a surreal backdrop perfectly suited to viewing film.
'We tried to come up with a very cinematic graphic concept, so moving through the installation is like moving through a movie. It's almost like an unedited sequence of scenes. There is an ambiguity to many of these spaces, but you don't really know whether the space itself is part of the work of art or something we found here,' Laparelli tells Wallpaper*.
By leaving elements of the 1950s hospital renovations visible, adding a film to the windows, creating a penumbra – or a shadow – over the exhibition hallways, and numbering each film as you would see in a cinema, Laparelli subtly adapted this complex and nuanced space to the needs of this exquisitely designed, deeply thought-out exhibition
INFORMATION
'Penumbra' is at Complesso Dell'Ospedaletto, Barbaria de le Tole 6691, Venice, until 27 November 2022. inbetweenartfilm.com (opens in new tab)