The fifth edition of the Ithra Art Prize is now open for submissions
The Ithra Art Prize 2023 is inviting contemporary artists from or based in the Arab world to enter, and is open for submissions until 1 April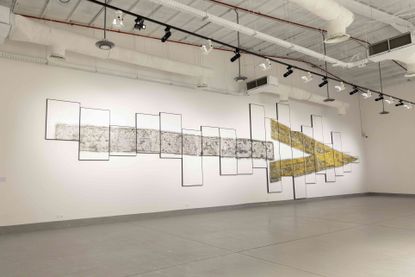 (Image credit: Courtesy Ithra)
In partnership with Ithra
The Saudi art community is calling it 'an escape from the Dark Ages' – a local art scene that is burgeoning with creativity, diversity and infrastructural growth.
Riyadh Art, Saudi's first national public art initiative, is set to transform the city into a gallery without walls and a creative powerhouse for the digital age, while art fairs like the Desert X AlUla biennial are attracting international interest from renowned dealers and collectors. By 2035, the Saudi city of AlUla will be home to 15 landmark destinations for culture, heritage and creativity – museums, galleries, research centres and arts districts – while new galleries continue to emerge in the larger cities of Medina and Jeddah.
Inspired by Saudi's expanding artistic development and a new generation of Saudi talent creating work that speaks directly to a young and culturally open-minded population, Ithra (aka the King Abdulaziz Center for World Culture, in Dhahran) invites contemporary artists from or based in the Arab world to enter the Ithra Art Prize.
Now in its fifth iteration, the Ithra Art Prize is open to established contemporary artists and art collectives from the 22 Arab countries (Algeria, Bahrain, Comoros, Djibouti, Egypt, Iraq, Jordan, Kuwait, Lebanon, Libya, Mauritania, Morocco, Oman, Palestine, Qatar, Saudi Arabia, Somalia, Sudan, Syria, Tunisia, UAE and Yemen). International artists who have lived in these countries for at least ten years are also eligible to apply.
The winner, who will receive $100,000 to bring their proposed artistic vision to life, will be announced on 15 May, and the 2023 winning artwork will be unveiled as part of Ithra's fifth anniversary celebrations in June.
Launched in 2017, the Ithra Art Prize was presented in collaboration with Art Dubai for its first three editions. The fourth edition's winning artwork was unveiled with the Diriyah Biennale Foundation at the kingdom's inaugural biennale.
'The Ithra Art Prize reaffirms Ithra's commitment to developing the creative industries in the kingdom, the region and the wider world,' said Farah Abushullaih, head of museum at Ithra. 'As one of the largest art grants internationally, we support artists from and based in the Arab world to develop important and meaningful work. The Ithra Art Prize aims to inspire creative thought, broaden cultural horizons and enable talent while empowering the art ecosystem.'
UAE-based artist Ayman Zedani was the prize's inaugural winner with his spatial installation Mēm, while London-based Daniah Al Saleh won the second edition for Sawtam – a digital, audio-visual presentation based on the phonemes of the Arabic language. Saudi-based Fahad bin Naif won the third edition for his installation Rakhm, meaning 'incubation', and Berlin-based Tunisian-Ukrainian artist Nadia Kaabi-Linke won the fourth edition for E Pluribus Unum – A Modern Fossil, which reflects on the how the pandemic has affected the travel industry and how humanity measures progress and economic growth.
For more information on Ithra and how to apply, visit ithra.com (opens in new tab). The competition closes on 1 April 2023.