Portraits of dogs: new Wallace Collection show is pooch perfect
'Portraits of Dogs from Gainsborough to Hockney' at the Wallace Collection (until 15 October 2023) offers paws for thought on the human devotion to dogs throughout the centuries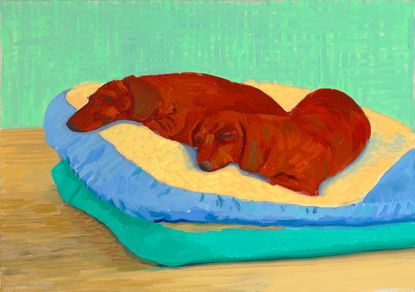 (Image credit: © David Hockney. Photo Credit: Richard Schmidt. Collection: The David Hockney Foundation)
'Portraits of Dogs from Gainsborough to Hockney', a new show at the Wallace Collection, London, explores how canine companions have been depicted from the 17th century until today. From the fetching to the fur-raising, and the downright regal, the show explores how artists over the ages have taken their beloved dogs as muses. Here, dogs steal the limelight, with the exhibition curation prioritising pawtraits without human presence.
This niche, yet apparently ageless genre, has more history than most, with dogs depicted in some of the earliest cave paintings alongside humans 8,000 years ago.
The London art exhibition brings 59 works, spanning paintings, sculptures, drawings, and even taxidermy, to the Wallace Collection's home of Hertford House, demonstrating the full breadth of humanity's devotion to dogs.
Historical highlights include Jean-Jacques Bachelier, Dog of the Hanava Breed, 1768, which proves that tying a bow in a dog's fringe is far from a contemporary trend, and Edwin Landseer, Hector, Nero and Dash with the Parrot Lory, 1838, which captures an intriguing, and surprisingly relaxed interspecies friendship. Other featured artists include Leonardo da Vinci, Rosa Bonheur, and Thomas Gainsborough.
But the stars of the show are David Hockney's dachshunds, Stanley and Boodgie, whom the artist adopted in 1987. These affectionately rendered paintings from 1995, in which the dogs sleep and lounge on their cushions, are a sentimental window into the role of dogs in Hockney's life, rendered in his inimitably vivid style.
The Wallace Collection's director, Dr Xavier Bray (the proud owner of two pugs Bluebell and her son, Winston), was offered access to a wide variety of works from the genre. 'The idea of curating an exhibition of dog portraiture has been in the pipeline for a long time and, fortunately, the Wallace Collection lends itself perfectly to the staging of such an exhibition,' he says. 'Two of our most popular paintings are seminal dog portraits, Rosa Bonheur's Brizo, A Shepherd's Dog (1864) and Edwin Landseer's Doubtful Crumbs (1858–9). They represent two very contrasting approaches to the art of dog portraiture.
'Bonheur's portrait is a superbly lifelike and intimate portrayal of her French otterhound, Brizo. By contrast, Landseer is more interested in introducing a biblical parable into his portrayal, exemplifying the 19th-century urge to moralise through dog portraiture. In his work, a small street terrier waits for the "crumbs" from the St Bernard who falls asleep while feasting in his warm kennel – a Victorian moral of the rewards that await in heaven for the meek amongst us.'
'Portraits of Dogs from Gainsborough to Hockney' runs until 15 October 2023 at the Wallace Collection, London. wallacecollection.org
Hertford House
Manchester Square
London W1U 3BN
Harriet Lloyd-Smith is the Arts Editor of Wallpaper*, responsible for the art pages across digital and print, including profiles, exhibition reviews, and contemporary art collaborations. She started at Wallpaper* in 2017 and has written for leading contemporary art publications, auction houses and arts charities, and lectured on review writing and art journalism. When she's not writing about art, she's making her own.