Poetry meets performance in Julianknxx's film installations at Barbican's Curve
Julianknxx opens his solo show 'Chorus in Rememory of Flight' at Barbican's Curve, London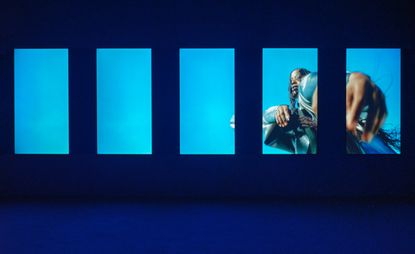 (Image credit: Julianknxx: Chorus in Rememory of Flight Installation view Barbican Art Gallery 14 September 2023 – 11 February 2024 © Eva Herzog / Barbican Art Gallery)
Julianknxx, aka artist Julian Knox, is experiencing a sharp rise in his career; his work is currently featured in Tate Modern's 'A World In Common' and his solo show 'Chorus in Rememory of Flight ' recently opened at Barbican's Curve (until 11 February 2024).
Drenched in blue from floor to ceiling the space is occupied by three film installations: two 'encounters' and one longer narrative art film. Taking inspiration from Toni Morrison's writing on 'rememory', and in its title nodding to a book by Lorna McDaniel, the exhibition uses music, dance, poetry and interview footage to explore the Black experience across Europe, where Julianknxx spoke to people in Hamburg, Rotterdam, Antwerp, London, Marseille, Barcelona and Lisbon.
Julianknxx, 'Chorus in Rememory of Flight'
'This idea of taking flight, or going on a journey for me is going out, using water as a way finder for choosing the seven cities that I wanted to go to,' Julianknxx says. 'All of the cities are port cities. The idea is that I've gone on my way and encountered all these people. I wanted [The Curve] to be a mini representation of that sort of place where things happen, the place where you come in, you take this journey through the blue, and then you go to the back and read some books and make the space come alive.'
Julianknxx's poetry features alongside performances from people he tracked down in these cities, unplanned, unchoreographed; the first two encounters see a dancer improvise on the German underground and a woman put on her mother's dress to perform towards the sea in Marseille across seven screens.
'So much of drowning is a pull, towards the core of the Earth', reads one phrase; 'Learning how to wear this black under their sun', reads another. The words, visuals and music lull us into Julianknxx's artistic vision, preparing us for the pinnacle of the show.
In the central, three-channel work, we hear accounts of living in the artist's chosen cities. We hear unscripted laments, anger and exhaustion as one woman insisted on being interviewed from bed, as she was 'tired of talking about colonialism'.
Julianknxx was a collector of these stories, acting as a conduit for their telling set to the repeated refrain of 'we are what's left of us'. Sung by a number of different choirs in each city these words are improvised and changed and we explore ideas of belonging, racism, history, life and identity.
These are art films, not documentaries but they carry a message. The artist's blending of disciplines heightens the messages in his work, uncompromising but somehow gentle in their powerful delivery.
'I don't separate them in my head,' the artist explains. 'It means what does the work need to come alive? And once I know what I'm trying to interrogate, write it down on paper, or my phone, or whatever it is, it's about finding the tightest way to present it, then I guess I end up in that poetry space. But in terms of experiencing the work, in a physical space, [it's] then thinking about, what does poetry look like, in a space? What does it feel like in space? So then cinema and sound come to mind.'
Julianknxx was born in Freetown in Sierra Leone and moved to the UK with his family as a child and his work is concerned with Black history across the world, preceding slavery and colonialism. The choral aspect of this work is a unifying force, transcending borders to connect a diaspora with a history that is longer than we often acknowledge. Julianknxx is a considered and thoughtful artist, concerned with process and communicating a truth, or an essence of what his subjects are saying through song, dance or through speaking. His message here is one of solidarity and unity through a shared experience and an aspiration to improve things for everyone.
"Yeah, I think to be alive is to live and breathe everything that's around us,' he says. 'So often, Blackness is denied aliveness. The fact that we also aspire, we also dream, we also critique, we also have existential crises. But also, human capability, what we're capable of, is not just gone, we're also capable of thinking of ourselves in the future.'
The project will be on show in The Curve gallery at the Barbican, London, from 14 September 2023 to 11 February 2024. The exhibition was commissioned by WePresent and can be viewed online by those unable to attend in person
Receive our daily digest of inspiration, escapism and design stories from around the world direct to your inbox