Art as a family business: the Zagnoli family's group show in Milan
The Zagnoli-Ligabue family present a new exhibition 'ZaLiZaZa: Family Inventory' at Milan's Antonio Colombo Arte Contemporanea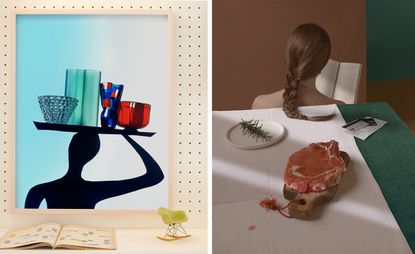 (Image credit: 'ZaLiZaZa: Family Inventory' at Milan's Antonio Colombo Arte Contemporanea. Courtesy of Milan's Antonio Colombo Arte Contemporanea)
In the Italian lexicon, the term 'Casa-Bottega' refers to an artisan, oftentimes a multi-generational family of artisans, who both live and work within the same space. It was a set up that was common during the Renaissance, think, a street-level shopfront with a dusty workshop in the back and an apartment on the floor above. The Zagnoli-Ligabue family— made up of photographer Miro Zagnoli, artist Emi Ligabue and their daughters illustrator Olimpia Zagnoli and costume designer Emilia Zagnoli — used this concept as a springboard for a new exhibition 'ZaLiZaZa: Family Inventory' at Milan's Antonio Colombo Arte Contemporanea. The exhibition tells the story of the four artistic family members' practices through their recent and archive work, as well as everyday objects from their daily lives.
"None of us lives under the same roof anymore," explains Olimpia — best known for her brightly coloured illustrations that frequently land on the cover of the New Yorker or the New York Times — touring the exhibition a few days after the opening alongside her mother, Emi, who made a name for herself in the 1980s as a member of the Enfatiste movement of artists in Bologna. "But in a way, we're still connected."
Curated by Francesca Pellicciari with set design by Franco Raggi, the gallery is loosely organised like a workshop, with a band of white pegboard lining the walls where paintings, photographs, garments and collages hang. Beneath the vertical element is a simple ledge displaying preparatory sketches, props and personal ephemera like postcards, books and dictionaries that dialogue with the pieces above. For instance, in a section dedicated to food, we find stylised paintings of egg cups by Emi accompanied by the real thing.
The exhibition illustrates how each of the Zagnolis' work easily slips in and out of the worlds of art, illustration and design. But it also shows how the four of them subconsciously trade concepts and ideas. "Francesca would visit us in our studios and look at the materials that we had in the archive," Olimpia explains of the process. "And tried to find common threads she could explore."
In curating the show, Pellicciari succeeded in teasing out eight distinct themes, ranging from domestic meditations — including photos by Miro of the girls as children, and a wall-hung tapestry by Emilia depicting the front door of her one-time home in London — to the more abstract. Like an entire section dedicated to the interpretation of silhouettes within each of their work. "We all use the silhouette and the human shape, whether complete or deconstructed," explains Olimpia. Here, photographs by Miro depicting a woman's figure amongst a series of Falkland lamps by Bruno Munari are set against collages by Emi inspired by Dr Gibaud, a brand of athletic tape whose advertising used a medical dummy wrapped up in bandages.
Moving on, the successive mise-en-scenes are dedicated to souvenirs of family trips, the design world, and depictions of the mountains, where the family would often spend their summers. In this section, Olimpia's 2021 series 'Altoaldige Sudtirol,' — a series of pink, brown and white illustrations of the Dolomite mountain chain, grazing cows and chalets — is set against small figurines of Swiss-style wooden houses Emi collects. "We're not very sporty people," jokes Olimpia. "Yet somehow mountains recur in all of our work."
The show also delves into moments of collaboration between the family members. For example, a blue chore coat designed by Emilia for Olimpia. "I asked her if I could have a jacket with all the tools that I use for drawing," she explains. "So there's a pocket for glasses, for the notebook I always carry, pencils, a snack. And inside, she's added a jade circle that's supposed to bring more creativity."
That being said, there's no evidence of creativity ever being in short supply. According to Olimpia, the exhibition forced each of her family members to reevaluate their own work in the larger context of the family unit. "For me, it's good to know that there are some foundations," she says of the experience putting together the show. "That these things we observe in front of us are not casual or happening for no reason, but they are actually part of a research that's been generational."
ZaLiZaZa: Family Inventory' at Milan's Antonio Colombo Arte Contemporanea until 19 November 2023
Receive our daily digest of inspiration, escapism and design stories from around the world direct to your inbox
Laura May Todd is a Canadian-born, Milan-based journalist covering design, architecture and style. In addition to the Italian dispatches she writes for Wallpaper*, she regularly contributes to a range of international publications, including T: The New York Times Style Magazine, Architectural Digest, Elle Decor, Azure and Sight Unseen. Prior to her work as a journalist, she was assistant editor at London-based publishing house Phaidon Press.