The Every Woman Biennial is a transatlantic triumph
Dynamic, inclusive and forward-looking, the all-female and non-binary Every Woman Biennial lands on both sides of the Atlantic, with editions in London and New York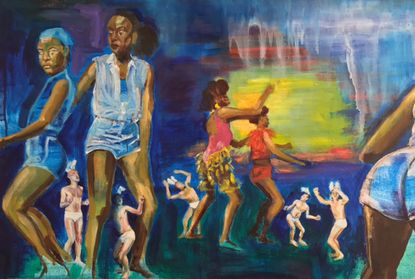 (Image credit: everywomanbiennial)
For its fourth edition, The Every Woman Biennial is staging simultaneous events across New York, and its 'sister city' of London.

Each year (quite understandably) the biennial turns to Whitney Houston for inspiration, basing its title on a song by the American icon that celebrates women elevating each other. The 2021 biennial theme is My Love is Your Love.
The inaugural London edition (June 12 - July 9), directed by Eddy Grattan-Bellew and Ruby Streek, has taken to the streets of the city with performances and public art, including transforming iconic (yet overwhelmingly male-dominated) monuments through performance art. It will also continue the biennial's traditional salon-style gallery, offering a stage to more than 300 female and non-binary artists.

A distinctive feature of Every Woman Biennial London will be collaborations with organisations to span the entire city, including those with Queer Art Projects, London Festival of Architecture, Woolwich Contemporary Print Fair and The Rectory Project. Art highlights include Irish artist Michelle Rogers' captivating and candid portrait of Dolly Parton and the work of Brazilian artist Juliana Naufel, who explores the connections between textile art, gender and female artists from Latin America.
The Biennial was first established in New York City in 2014 by founder C. Finley, originally as 'The Whitney Houston Biennial', presented independently yet simultaneously with The Whitney Museum Of American Art Biennial, as a way to spotlight female artists. This year, featured artists include founding member of the art collective Fierce Pussy, Suzanne Tyler Wright, artist and photographer Siri Kaur, and 93-year-old artist Marilyn Hochhauser.

'It's been my dream to expand to cities worldwide to create more opportunities and community to elevate women and non-binary artists, and we're excited to present the inaugural Every Woman Biennial in our sister city, London,' says founder and curator C. Finley.
In New York, the Every Woman Biennial is squaring up to the male-dominated NFT market, with an international presentation representing 26 countries. Through a digital platform, and on screens within a physical presence at Superchief Gallery NFT, New York (June 24 - July 3, 2021), the carbon-negative exhibition offers 300 hundred women and non-binary artists will have the opportunity to reach new audiences.

As C. Finley concludes: 'Not knowing if we'd be able to get together during the pandemic, we embraced the new NFT platform for our 4th edition in NYC. 600+ emerging female and non-binary artists are coming together across the biennials to exhibit, perform and lift each other up.'
INFORMATION
The Every Woman Biennial will take place in London (June 12 - July 9) and New York (June 24 - July 3). everywomanbiennial.com
Harriet Lloyd-Smith is the Arts Editor of Wallpaper*, responsible for the art pages across digital and print, including profiles, exhibition reviews, and contemporary art collaborations. She started at Wallpaper* in 2017 and has written for leading contemporary art publications, auction houses and arts charities, and lectured on review writing and art journalism. When she's not writing about art, she's making her own.