Emerging talent at Amsterdam's Unseen Photo Fair 2013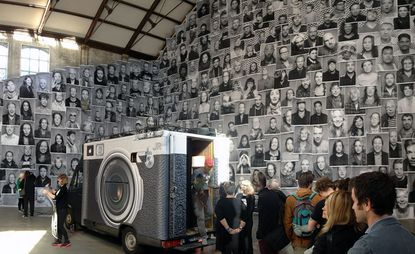 (Image credit: press)
Firmly finding its stride in its second year, the Unseen Photo Fair, masterminded by Foam in Amsterdam, had strong work on show from numerous galleries around the world. As the fair's title suggests, the emphasis is on less well-known photography by emerging talent and unsung pioneers. Think of it as Paris Photo's edgy young cousin. Here, we round up the highlights from the fair, including artist JR's nomadic 'Inside Out' project (pictured).
Inside Out by JR JR's 'Inside Out' was one of the main draws at the fair, a global project by the enigmatic French artist where giant camera-shaped photo booths take equally giant passport photos of anyone who wants to participate, and then prints them out as huge black and white images which are flyposted by his crew on walls, floors, and sometimes public spaces. The result is a massive, ever-evolving collage of faces, each one a statement in itself that contributes to the overall work. Housed in one of the huge industrial hangars of the Westergasfabriek, the fair's site, this was a fun, moving and impressive immersive experience.
Tanja Deman at Wim van Krimpen
Wim van Krimpen's selection of Croatian photographer Tanja Deman's large scale images certainly stood out. While heavily reliant on post production, the strange spectacles of sporting arenas and theatres full of people who are supposedly viewing a gaping chasm or a gigantic crystalline formation had a certain, almost kitsch appeal.
Pictured: 'Arena', 2013
Julia Hetta at Gun Gallery
Of the commercial work on show, standouts included Julia Hetta's beautiful, dark, almost Pre-Raphaelite studio portraits, filled with rich textures and fabrics. The untitled photographs have an elegance and poise that seems timeless and classical, offset by the modern twists in the sitter's costumes and the carefully chosen props.
Jeff Bark at Michael Hoppen Contemporary
Jeff Bark, showing at Michael Hoppen Contemporary, takes the idea of constructed situations even further, his complicated compositions loaded with strange props and symbols. The work is carefully constructed and controlled on an almost cinematic level, and the strange, almost sickly colours enhance the weirdness of the tableaux. Seen individually the photos are almost unfathomable, which Bark likes, but when viewed as a series, narratives begin to suggest themselves to the viewer.
Pictured: 'All That He Left', by Jeff Bark, 2009
Eva-Fiore Kovacovsky at Aperture Foundation
New York's Aperture gallery represents the work of Eva-Fiore Kovacovsky, whose simple, abstract photograms of overlaid leaves stood out for their clean, bold use of colour. While it is one of the oldest techniques in photography - its first noted use dates back to the mid 1800s - Kovacovsky's executions feel like modern, colourful Rorschachs.
Pictured: Photograms portfolio, 2013.
Daisuke Yokota at G/P Gallery
Daisuke Yokota, one of the most consistently interesting contemporary Japanese photographers, had some characteristically subtle, allusive work exhibited at Tokyo's G/P Gallery. Yokota re-photographs prints of his images many times over, adding layers and stains and levels of distortion at each step - messing with the chemistry used in developing photographic paper, solarising the prints, overexposing them - to make these strange, haunting images. They are not easily accessible, but the prints themselves are fascinating objects that slowly draw the viewer. Harder to appreciate on a screen, undoubtedly. The work resulted in Yokota winning the inaugural Outset Unseen exhibition fund.
Pictured: Untitled, from the series 'Back Yard', 2012.
Hyers & Mebane at Steven Kasher Gallery
Perhaps the most striking and unique body of work shown by all the galleries was an installation by duo Hyers & Mebane at Steven Kasher Gallery. Before its recent removal from its original premises in New York's East Village, Hyers & Mebane documented the home of The Uranian Phalanstery, an eccentric artists' collective founded in the 1970s by Richard Tyler. Tyler, a bookmaker and small press publisher, was fascinated by Gnosticism, Buddhism, Symbolism…and tattooing. He collected incredible amounts of printed matter and random ephemera until his death in 1983, and the installation here was a mix of Hyers & Mebane's fascinated, detailed photographs of the Phalanstery space coupled with all manner of printed matter and totems from Tyler's original collection, papering all the walls and fascinating the crowds.
Pictured: Installation view of 'Uranian Phalanstary' exhibition, by Hyers & Mebane.