'Dynasty Marubi': a hundred years of Albanian studio photography is surveyed at Foam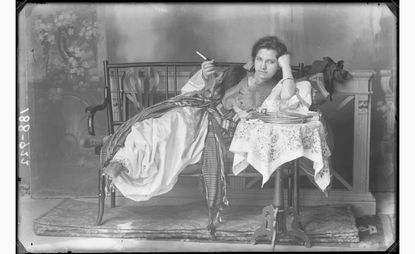 (Image credit: Marubi National Museum of Photography, Shkodër)
The story of the Marubi studio started in about 1850, when the Italian Pietro Marubi emigrated to Shkodër, Albania, for political reasons. In 1856, just two decades after photography was invented, he established a photographic studio with the camera he brought with him from Italy. The studio's camera shutters were not to stop for more than a century.

'Dynasty Marubi – a hundred years of Albanian studio photography', an exhibition of that legacy, is currently being staged by Foam (Fotografiemuseum Amsterdam), where a stream of black and white images provides a record of important aspects of Albania's history and its people, captured by three generations of studio photographers from 1856–1959. In this country – the visual culture of which is little known – the collection provides a rich photographic history that stretches from Ottoman times to the communist period and includes social rituals, traditional costumes and group portraits of sociological significance.

Pietro Marubi started his practice using the wet-plate collodion process, the standard method of photography across Europe at that time. There is no record of where the studio was first located, although many studies suggest that it was actually al fresco, which could be true looking at the portraits of a wide variety of the locals. On the master's death, his assistant Kei took over the business and changed his name to Marubi, bringing in techniques such as special effects and the retouching of negatives – together with more sophisticated cameras. The third generation of the studio, Kei's son Gegë, was trained at the Lumière brothers' school in France in the 1920s. He pioneered the use of celluloid instead of glass plates in what was regarded as the studio's most successful period.

In the 1970s, Gegë donated the studio's collection – some 150,000 glass negatives – to the Directorate of General Archives. He dedicated the rest of his life to working on their conservation and died in 1984. The archive is now housed at the Marubi National Museum Of Photography, which opened earlier this year in Shkodër, in a building designed by Dutch studio Casanova+Hernandez Architects.
INFORMATION
'Dynasty Marubi – a hundred years of Albanian studio photography' is on view until 27 November. For more information, visit the Foam website
Photography: Marubi National Museum of Photography, Shkodër
ADDRESS
Foam Fotografiemuseum
Keizersgracht 609, Amsterdam
Yoko Choy is the China editor at Wallpaper* magazine, where she has contributed for over a decade. Her work has also been featured in numerous Chinese and international publications. As a creative and communications consultant, Yoko has worked with renowned institutions such as Art Basel and Beijing Design Week, as well as brands such as Hermès and Assouline. With dual bases in Hong Kong and Amsterdam, Yoko is an active participant in design awards judging panels and conferences, where she shares her mission of promoting cross-cultural exchange and translating insights from both the Eastern and Western worlds into a common creative language. Yoko is currently working on several exciting projects, including a sustainable lifestyle concept and a book on Chinese contemporary design.