Dia Mrad captures the tangible repercussions of Lebanon's economic crisis
In 'Utilities', on view at Dubai's Zawyeh Gallery, Lebanese photographer Dia Mrad documents his home country's multi-layered economic crisis through Beirut's urban fabric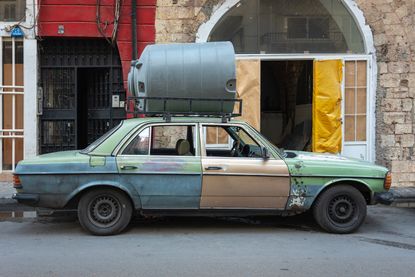 (Image credit: Dia Mrad)
Dia Mrad's work stems from his architectural practice; his portfolio considers the built environment, constructing poignant bodies of work that highlight Beirut's modernist architectural legacies, and pay homage to a city devastated by ongoing economic turbulence. In Mrad's Dubai exhibition 'Utilities,' he looks at a change in infrastructure to tell the story of Lebanon's multi-layered economic collapse, from 1970s post-war financial strain and privatisation to Beirut's tragic warehouse explosion in 2020, which killed over 200 people.
Mrad documents a movement towards more self-sufficient structures in his home country, with people striving for independence from state utility systems that, since falling into disarray and having been replaced by private providers, have pushed bills up to intolerable highs. Robustly approached, the series displays people's solutions: water tanks sitting on cars, and generators fuelling homes. The collapse of a reliable electrical system has led banks to be reliant on both the military and physical vaults, which cover ATMs and the doors of banks – a new, yet archaic, system to protect life savings.
In Mrad's work, irregular patterns are orchestrated in varied photographs of coiled tubing, organised on top of water tanks, and aerial views of rooftops show grids of backyard solar panels. Images of bank doors are to-scale and placed alongside those of ATMs, which are presented as they would be on the street. The series creates harmony over the loss of trusted central government systems and observes the ways that Beirut has continued to persevere through what has been the worst economic crisis since the 1850s. As Mrad's curatorial text outlines: 'These cracks and traces of Lebanon's economic crisis have become very visible in the social, cultural, and urban fabrics of the city, transforming the lived realities of inhabitants and ushering them into new modes of survival. '
Overarchingly, the series looks to celebrate the resilience of the Lebanese people, providing themselves with more viable alternatives to restrictive realities, even after having endured decades of extreme circumstances.
'Utilities' will be on show until 22 February 2023 at Zawyeh Gallery in Dubai. Diamrad.com (opens in new tab); @diamrad (opens in new tab)
Martha Elliott is the Junior Digital News Editor at Wallpaper*. After graduating from university she worked in arts-based behavioural therapy, then embarked on a career in journalism, joining Wallpaper* at the start of 2022. She reports on art, design and architecture, as well as covering regular news stories across all channels.
With contributions from