The domestic world's a stage for artist Derrick Adams
The artist's exhibition of domestic vignettes and portraits makes for intimate viewing at Luxembourg & Dayan's New York townhouse gallery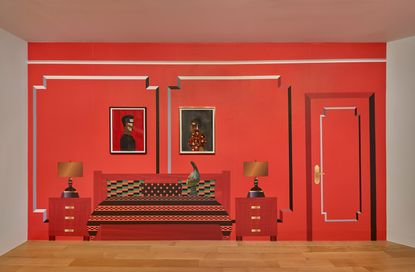 (Image credit: © Derrick Adams. Courtesy of Luxembourg & Dayan)
It's easy to see why the New York art scene is going wild for Derrick Adams, the 49-year-old Baltimore-born artist who has just opened a new exhibition curated by Francesco Bonami at Luxembourg & Dayan. His blocky, pop-bright collaged portraits – part of a series titled Deconstruction Worker – hang within detailed domestic scenes, against a backdrop of wallpapers designed by Adams.

The exhibition gives an insight into Adams' wider practice and interests as an artist, using techniques borrowed from architecture and design. There's a brick-red bedroom, complete with double bed, matching bedside consoles, and a laminate wood floor; the setting for two portraits, a male and female figure, facing one another. A kitchen with modern furniture and tiles, alphabet magnets stuck up on the fridge, and recipes tacked to the cupboards – the site for portraits of three women.

'I'm always trying to make these references to the things I see, things I'm attracted to – why I like them, where they come from,' Adams says. 'I think this is the first exhibition where I really had the ability to really expand on it, in a really almost performative way.' The intimate domestic environments he's created at Luxembourg & Dayan suggest a narrative for his portrait: urbanites whose homes reflect something about their inner life, or 'invisible force of the soul'.
Playing with the perception of depth, Adams' intricately patterned surfaces represent people who blend perfectly with the belongings they're surrounded with. Visually, there's not much difference between them. The subtle hint of an idea is at the core of Adams' thinking, and the exchange between image and object, person and totem aligns his approach with the postmodernist movement of deconstructivism. In Adams' urbanscapes, we are what we own.

Although informed by histories and stories, Adams explains, the audience reaction to the space is likely to be visceral – 'It's more about familiarity,' as he puts it. Who identifies with what, and why, is where this becomes a more interesting and complex discussion; but that's left open-ended by Adams. Like his acclaimed counterparts, Njideka Akunyili Crosby and Tschabalala Self, each of the components in Adams work is the result of careful consideration, a story that is subtly made whole by the artist's hands but is left deliberately fragmentary.

Adams, too, will be the last artist to exhibit at the Mary Boone Gallery, New York, before the gallery closes (Boone was sentenced to 30 months in prison in February this year for filing false tax returns).
INFORMATION
'Derrick Adams: Interior Life' is on view until 20 April. For more information, visit the Luxembourg & Dayan website (opens in new tab)
ADDRESS
Luxembourg & Dayan
64 East 77 Street
New York
Charlotte Jansen is a journalist and the author of two books on photography, Girl on Girl (2017) and Photography Now (2021). She is commissioning editor at Elephant magazine and has written on contemporary art and culture for The Guardian, the Financial Times, ELLE, the British Journal of Photography, Frieze and Artsy. Jansen is also presenter of Dior Talks podcast series, The Female Gaze.