The Philadelphia artist activating Frank Lloyd Wright's only synagogue
David Hartt brings film, tapestry, sound and orchids to the 60-year-old building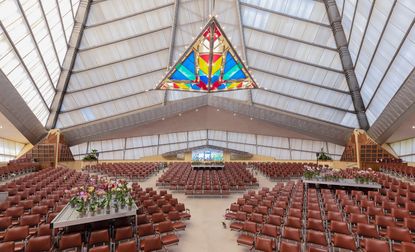 (Image credit: Courtesy of the artist, David Nolan Gallery, Corbett vs Dempsey, Galerie Thomas Schulte. Photography: Michael Vahrenwald)
Beth Sholom Congregation in Elkins Park, just outside of Philadelphia, was one of the last buildings designed by Frank Lloyd Wright before his death in 1959. Similar to New York's Guggenheim Museum – arguably, the most iconic of Wrights – the Mayan era-inspired structure is a building that challenges its utilitarian raison d'être, putting manner and immersion before function.

Under a pyramidal roof in the light-filled main hall hangs a floating Plexiglass chandelier designed by Wright himself (he called it a 'light basket'), flecked with bright green, blue, yellow and red glass. Auditorium seats clad in brown leather hark to the heyday of mid-century design. The seats observe a stage that reflects Wright at his most flamboyant, relishing a theatrical composition dominated by gold curtains and edgy decorative details.

When David Hartt was invited to inaugurate an exhibition programme at the 60-year-old building, the Philadelphia-based artist and his New York-based curator Cole Akers reflected on an intervention that would stand out from Wright's dramatic architecture and engage the synagogue's frequent visitors with its own narrative and visual sprit.
The result is Hartt's 'The Histories (Le Mancenillier)', a subtly captivating installation of moving image, tapestry, sound and objects, occupying the building's entrance floor and the main ceremony hall. At the core of the artist's statement lies a parallel between the Black and Jewish diasporas, defined by mobility, adaption and survival. This message is embodied in the installation by music from the 19th-century New Orleans composer Louis Moreau Gottschalk, whose Jewish and Creole heritage is reflected in his eclectic compositions.

Hartt tells Wallpaper*, 'I've been thinking about the building's potential future as an architectural ruin and wanted to commemorate that aspect in relation to community-building,' adding that he borrowed Wright's understanding of consistency in design for his own work. Known for his visually discreet yet thematically piercing multidisciplinary interventions, the artist has brought nature inside the abashedly glamorous interior, enticing visitors to reflect on equilibrium and transcendence, on par with the building's spiritual function.

'The contrasting media that make up the installation create an ambient environment throughout the synagogue's interior, renegotiating the audience's experience of the space and the histories that unfold,' explains Ackers, who is partial to architectural legacies and holds a curatorial position at Philip Johnson's The Glass House in Connecticut. 'Rather than focus on the authorship of the building, David was drawn instead to the broader history of the congregation and its ability to shelter a generous and porous concept of community.'
Hartt replaced faux decorative plants with locally-sourced flowers that now live under light metal fixtures he personally designed to spotlight their graceful beauty. In the synagogue's women's section, a custom-made Belgian tapestry is emblazoned with a horizontal orchid, blown up larger than life. An adjacent screen streams Hartt's silent shots of the Caribbean flora. A dazzling flicker of light pulled from the film decorates another tapestry in the men's section, where a piano is occasionally activated by a line-up of musicians organised by Haitian-born and Pennsylvania-based baritone, Jean Bernard Cerin, to play Jewish and Caribbean music from the 19th and 20th centuries.

Elsewhere, 170 orchids, each in a transparent pot, populate the seating area in the main hall, which is permeated by recordings of Ethiopian pianist Girma Yifrashewa's interpretation of Gottschalk. Orchids, famous for their easily adaptable nature, are silent stand-ins for the displaced, honouring the lives uprooted in the face of colonialism or Holocaust. In Hartt's nuanced placement, they seem human, each singularly unique in its own beauty, yet collectively a manifestation of unison and strength, elevated by Yifrashewa's mellow tunes.

A handful of plants sit isolated from two main arrangements on either side of the stage, dotted around the carpeted floor or occasionally perching on a seat. As poetic as it seems, the inspiration for the placement came out of necessity and beautifies the plastic buckets that the staff otherwise uses to collect leaking rainwater: a striking marriage between the rhythm of Wright's building with Hartt's orchestration of orchids, sounds, and memories
Information
'David Hartt: The Histories (Le Mancenillier)', until 19 December, Beth Sholom Congregation. bethsholompreservation.org
Address
Beth Sholom Congregation
8231 Old York Road
Elkins Park
Philadelphia