Material world: Dale Frank latest explorations in paint, resin and fire foam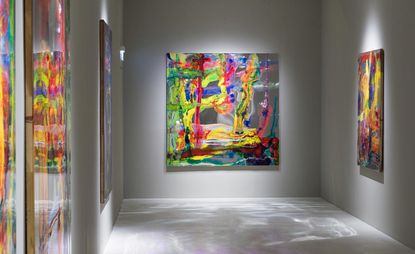 (Image credit: TBC)
January is usually a relatively quiet month for art in Hong Kong but not so at Pearl Lam's eponymous Pedder Street gallery where the local gallerist is showing a solo exhibition of 16 works by artist Dale Frank.

One of the Australia's most successful international artists, Frank is renowned for his manipulation of wildly different materials, pouring, melting and folding paint, chemicals, varnish, and resin to create intricate kaleidoscopic abstract images that are part painting, collage and sculpture. 'It is not important to me if the image is flat or extends so far out from the wall that it touches the floor', he says. Indeed, in the past some of his works have literally slowly slipped off the canvas to create hypnotic stalactite-like goopy forms.
One of the most intriguing transformative pieces on show is, He had the personality of duck fat, comprising a large Perspex base upon which the artist has sculptured compression foam into a moon surface-like landscape before adding a layer of plutonium so that it glows an eerie green in the dark. The artist says he always adds the title after the works leave the studio. 'I write a story and then move the lines and text around, breaking it up. I then divide it up according to the number of paintings,' he explains.
Sometimes, however, the seemingly random name fits the image surprisingly well, as with The English have a way with Trifle (above), where oxygenated fire retardant foam on liquid glass interacts with oxygen to create a surreal pink and burnished gold landscape.

All the works were created during 2016, so even familiar-looking pieces reflect Frank's newest explorations. For instance, his trademark colour resin swirls are now layered on reflective liquid glass creating a mirrored effect that reflects the image of the viewer. 'Everyone wants to be the centre of the world at the moment so why not make them the centre of the art?' Frank asks with a laugh.
INFORMATION
'Dale Frank' is on view until 9 March. For more information, visit the Pearl Lam Galleries website (opens in new tab)
ADDRESS
Pearl Lam Galleries
601-605 Hong Kong Pedder Building
12 Pedder Street
Central
VIEW GOOGLE MAPS (opens in new tab)