'Cut-ups, Cut-ins, Cut-outs: The Art of William S. Burroughs', Ljublijana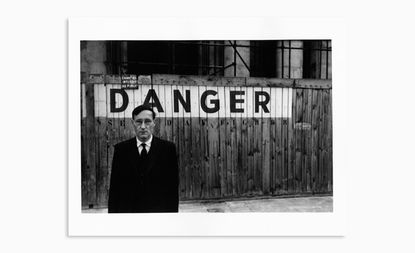 (Image credit: Courtesy of The Barry Miles Archive)
'William S. Burroughs the artist' probably places second to 'William S. Burroughs the writer' in the sphere of popular culture. Yet in the sphere of influence, Burroughs's art has had immeasurable success, inspiring icons from David Bowie to Patty Smith to Kurt Cobain.

An exhibition on now at the International Centre of Graphic Arts (opens in new tab) in Ljublijana, Slovenia, focuses on the artistic side of Burroughs' oeuvre, specifically his cut-up works, precursors to postmodern collage and even digital sampling in music. 'Cut-ups, Cut-ins, Cut-outs: The Art of William S. Burroughs (opens in new tab)' uses the Beat artist's patchwork painting, photography, film and audio work to tell the story of his development in this other field.

Curators Colin Fallows, a professor at Liverpool John Moores University (opens in new tab), and Synne Genzmer of Vienna's Kunsthalle (opens in new tab) museum have rounded up dozens of rare works from Burroughs's experimental phase. They begin in the late 1950s, shortly after Burroughs met the painter Brion Gysin (opens in new tab), the godfather of cut-up art, at the Beat Hotel in Paris, and continue through the 1960s.

Gysin collaborated with Burroughs on his early cut-ups, splicing together fragments of text and sound to uncover a sort of freedom from conventional thinking. The original material came from Burroughs's own writings, classical authors like T.S. Eliot, Shakespeare and Kafka, popular imagery, scientific motifs and TV; when juxtaposed they conspire to create new, disconnected realities.

Tracing the progression of works from text to painting to sound offers a glimpse into the artist's complex mind and the beginnings of a revolution in art and music that continues to shape us even today.
ADDRESS
International Centre of Graphic Arts
Grad Tivoli
Pod turnom 3
SI-1000 Ljubljana
VIEW GOOGLE MAPS (opens in new tab)