Deep dive: artist Claudia Comte on preserving marine life through art
We caught up with the Swiss artist and recent Verbier Art Summit speaker about the role of art in driving positive environmental change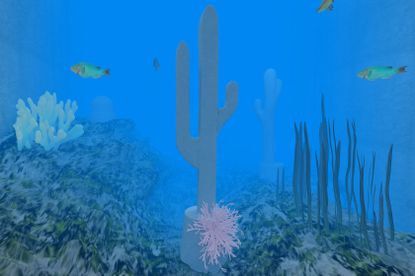 (Image credit: Claudia Comte)
Wallpaper* Newsletter
Receive our daily digest of inspiration, escapism and design stories from around the world direct to your inbox
Thank you for signing up to Wallpaper. You will receive a verification email shortly.
There was a problem. Please refresh the page and try again.
An artist's life is mostly solitude. Unaccompanied hours, days, or even weeks in the studio conceiving, designing, constructing and finessing; alone with one's thoughts and creative impulses, triumphs and doubts. So, how does the enforced isolation of a global pandemic affect the working artist? How does an international lockdown impact on the lifestyles and working practices of a profession that is voluntarily locked down for most of the year anyway?

With a body of mixed media work, indoor and outdoor installations defined by the natural world, an interest in the memory of materials and carefully measured observation of how the hand relates to different technologies, artist Claudia Comte has spent her time in isolation wisely. She moved into a new home and workspace with her curator partner, travelled less, worked more, and looked outwards from her position of confinement.

Born in Switzerland's Jura Mountains, with a countryside atelier outside Basel, Comte took part in the recent (virtual) Verbier Art Summit where she discussed her recent pre-pandemic foray into multi-coloured oceanic marine life and ecological conservation, now a recurring subject in her work.

Billed as 'an international platform for discourse in a non-transactional context' the Verbier Art Summit's mission is to connect thought leaders to key figures in the art world to generate innovative ideas and drive social change.
Wallpaper*: How has the pandemic been for you? Where have you spent most of your time for the past year, and has lockdown's isolation inspired a flurry of intense creativity or did you use your time to relax and contemplate?
Claudia Comte: It has been a productive time creatively, perhaps due to having fewer travel obligations and living close to my studio. Or perhaps it's due to my new home being surrounded by nature. Whatever the reason, my head has been circulating with new ideas. At the end of 2019, I bought a house in the countryside outside of Basel with my partner (curator) Samuel Leuenberger. The property is self-sustainable, it is run on solar energy, has its own water source, biotope and natural insulation, made of sheep's wool and green roofs. It also has an extraordinary garden. Over the past year, we have been lucky to spend our lockdowns there. Thankfully, my studio is also located on the property in an old converted barn. My partner has an exhibition space on-site called Country Salts. It has been miraculous to observe the garden flourishing through the seasons from spring through winter, now our garden is covered in snow. I do not take for granted how nourishing it has been to be surrounded by so much wildlife this past year.
W*: Has the coronavirus pandemic inspired any new work? Have you been concentrating on any particular facet or discipline?
CC: I have focused more on in-house and local production, which led me to work more in painting. I have also, as many have, become quite accustomed to working virtually with collaborators - I have this sense when on a video call, with my gallerist for example, that I could have been physically there, I feel transported on a Zoom call. This has been useful when I have needed to check on the production of works where I couldn't physically be present.
W*: Much of your most noted work is large-scale, referencing nature, sometimes interactive, kinetic and often presented outdoors. During lockdown, with galleries closed, has this been a benefit for you and your work? Have people still been able to see and enjoy it?
CC: On 3 October 2020, we opened up our property to the community, showing to a larger public my studio as well as the exhibition space that my partner runs. We curated the first show together and showed a group of artists including, Ugo Rondinone, Peter Zumthor, Solange Pessoa, Violeta Burckhardt and Elise Corpataux. I also installed a wall painting which was a collaboration with Adeline Mollard. At the time of the opening, we were lucky to be between the first and second wave of the pandemic, numbers were low then and people rejoiced in venturing into the countryside for a well-deserved distraction and to see how art and nature can start living and working together. We had around 350 guests who arrived through a slotted registration system. It was a wonderful first project and a great success.

I also opened a show at the Kunstraum Dornbirn in Austria which consists of 40 marble sculptures in the form of drinking cans and a large patterned sail that is suspended from the ceiling. Whilst the show is not yet opened, visitors are able to peer through a large window of the building, which is a cathedral-like relic of the industrial revolution.

My show at Castello di Rivoli has been extended many times due to the pandemic, it has been installed since 2019. Now the museum will open its doors to the public so that large scale vaccinations can take place on-site.

Many more art in architecture projects are in the works too. I have two public art projects to open in the coming years; one in Berlin, and another in Basel will be installed soon.
RELATED STORY
W*: For the Verbier Art Summit you discussed the creative role of forests and Switzerland's natural environments in your work. More recently, you have developed an interest in ocean and marine life, something not present in land-locked Switzerland. How did this happen?
CC: That is true. In more recent years, my interest in ocean and marine life has become a recurring subject in my personal reflections and artistic practice. In March 2018, I was invited to participate in an oceanic expedition to New Zealand organised by TBA21 Academy, led by the curator Chus Martinez, together with a crew of fellow artists. The academy brings together scientists, writers, thinkers and artists and instigates intersectional and collaborative research, artistic production, and new forms of knowledge, investigating environmental injustice against the ocean through the lens of art. Since this experience, I have developed several works and artistic interventions that incorporate my oceanic findings.
W*: Your Underwater Cacti installation at Alligator Head Foundation in Jamaica is a series of permanent, cast-concrete underwater sculptures intended to help with the revitalisation of coral reefs (a virtual experience of the project is now on view at König Galerie). It sounds like a major undertaking. How did this happen, and how will it work?
CC: TBA21 Academy partnered with Alligator Head Foundation, where I was invited to an artist residency in 2019. I was producing work on-site at the lab, making wooden sculptures in the shape of the corals I would see from my dives in the region. I was very interested in the ways I might be able to engage with the community during my time in Jamaica. I felt that as I would be taking this tropical wood out of the country I needed to leave something in return.
After witnessing the extraordinary work being done at the marine lab, and the delicate ways in which they help to cultivate new coral growth, I wanted to somehow be involved in the conservation work. So arriving at the idea to create an underwater sculpture park grew out of multiple conversations with Markus Reymann, the director of TBA21 Academy and the marine biologists at Alligator Head Foundation. The sculptures were installed on the seabed in the foundation's protected waters and over the coming years, marine biologists will begin to plant coral on the cement forms, which will ultimately help to strengthen the overall biodiversity in the area. Together we saw how it is possible to produce an artwork that does something else in the world, something practical with a direct positive environmental effect.
W*: It is fascinating to note how you apply rigorous rules, rigid methods, measurements and specific reference points when working. Does this apply to all your work - from the digitally meticulous op-art pieces to the wood sculptures created using chainsaws?
CC: I am a precise and methodical worker. Over the years I have developed certain systems within which I work, they may appear rigid, but for me, these methods create infinite loops and possibilities in my mind within which I feel a great amount of creative freedom.
W*: You grew up in the forests of the Jura Mountains surrounded and inspired by ancient trees, non-anthropocentric data and biomorphic forms. How does the Alpine region of Verbier differ from the Juras, and do the Alps offer a different type of inspiration?
CC: The landscape in Verbier is very different; it is dry, rocky, angular and steep. While, in the Jura there is a feeling of the Jurassic; it is more hilly, incredibly green, like a chroma green, which is, of course, impossible in nature, but somehow it's an apt description in this context. You see this wonderfully lush moss growing on stones that look as though they haven't been touched for centuries. It is breathtaking, especially when you are at the top of the rolling hills where you see the lake of Geneva and the Alps at the same time. This natural diversity is what makes Switzerland so wonderful.
W*: You are due to have a new solo show at the Museo Nacional Thyssen-Bornemisza, Madrid in May 2021. Will this still be possible? And if so, what new work will you be exhibiting?
CC: The show has been postponed twice now but it looks likely it will open on the 10 May, health restrictions permitting. I will be exhibiting the entire body of coral sculptures I produced in Jamaica within an immersive 'underwater' landscape that incorporates a wall painting and video installation. The museum curator Chus Martínez and I are looking forward to this show very much.
INFORMATION
Claudia Comte, 'Dreaming of Alligator Head', is available to explore via the König Galerie app until 12 January 2022. A 3D tour of the artist's solo show, 'Jungle and Corals' is accessible online. koeniggalerie.com
Receive our daily digest of inspiration, escapism and design stories from around the world direct to your inbox