Chart Art 2018: what to see at the Copenhagen fair this weekend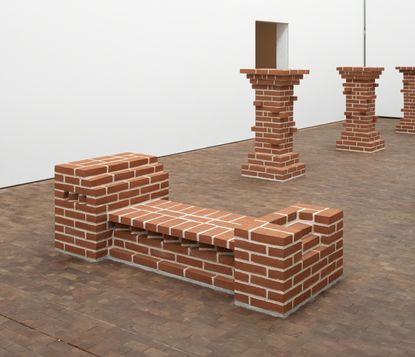 (Image credit: Galleri Susanne Ottesen)
Wallpaper* Newsletter
Receive our daily digest of inspiration, escapism and design stories from around the world direct to your inbox
Thank you for signing up to Wallpaper. You will receive a verification email shortly.
There was a problem. Please refresh the page and try again.
In the six years since its establishment, Copenhagen's Chart Art Fair has grown into the leading showcase of Nordic contemporary art. From 31 August to 2 September, the fair will once again take over the Kunsthal Charlottenborg – a Dutch-inspired baroque palace turned exhibition space in the heart of town. In lieu of booths, artworks are presented in a museum setting (sometimes with multiple galleries sharing the same room), offering a better viewing experience than the conventional art fair. And with 32 participating art galleries, a separate thematic exhibition on emerging artists, an architecture programme that brings five pavilions in the Kunsthal's courtyard, plus a satellite design fair a stone's throw away (at Den Frie Centre for Contemporary Art, see our preview here), there's plenty to view and admire.

Here are our top picks of the art offerings...

Galleri Susanne Ottesen
Two works by Per Kirkeby – geologist and giant of neo-expressionist art who passed away earlier this year – are appropriately the focus of the presentation by Copenhagen-based Susanne Ottesen, one of Chart's five founding galleries. Titled Essen X (Bank) and Essen (Haus), (pictured top) these knee-height architectural forms from 1977 are made of soft molded red brick, a reference to traditional Danish buildings and specifically, the red-brick terrace of Kirkeby's childhood. Nearby, a pair of gold reliefs by painter Troels Wörsel offer a sharp visual contrast, with resplendent classical borders framing cragged surfaces that bring to mind mountain ranges seen from a plane.
Galleria Heino
Helsinki-based Galleria Heino's grand debut at the fair takes the form of a solo presentation by photographer and video artist Elina Brotherus, who explores the possibilities of self-dramatisation while nodding to modern and contemporary artists. Two of her images draw inspiration from Erwin Wurm, who famously creates one-minute sculptures with members of the general public and everyday domestic objects; a nude shot at the escalator of the Centre Pompidou pays homage Marcel Duchamp's Nude Descending a Staircase; another references Yoko Ono's 1955 performance work Lighting Piece, which came with the simple instruction 'Light a match and watch it till it goes out'.
Galerie Forsblom
The colourful silicone rubber works of Swedish artist Matthias van Arkel anchor the presentation of Stockholm-based Galerie Forsblom. Van Arkel is known for using a modified pasta machine to blend silicone rubber of various colours, cutting through them and presenting the cross sections as final artworks, without a canvas or any supporting structure. The presentation includes four works from his recent Light Situation series, their numbering indicating a progression from lighter to darker colours.
Chart Emerging
For the second year in a row, curator Helga Christoffersen from New York's New Museum will be curating a thematic exhibition featuring Nordic artists who have recently completed their formal education and are making marks on the larger artistic landscape. Taking place in the hallowed halls of the Royal Danish Academy of Art, Chart Emerging is a premier platform for budding talents and looks set to give their careers an enormous boost.

OSL Contemporary
The Norwegian gallery OSL Contemporary is bringing four paintings by young Swedish artist Ragna Bley, each measuring 3.3m tall. Bley paints on unprimed sailcloth, which allows paint to diffuse across the fabric and create rich layers of colour to ethereal effect. The works are from a recent series titled Zooid, suggesting individual animals that make up colonial organisms.
Galleri Nicolai Wallner
Copenhagen-based Galleri Nicolai Wallner's presentation is an exercise in contrasts, with a monumental painting by local artist Alexander Tovborg depicting a sphinx and an armoured virgin (a reference to Joan of Arc) paired with a series of sculptures by the Mexican Jose Dávila. The latter are created from plaster casting molds from a ceramic factory in Guadalajara, their concave interiors now gilded with gold leaf. In transforming a tool of production into artwork itself, Davila riffs on the shifting of values and the tension between presence and absence.
Andréhn-Schiptjenko
The presentation by Stockholm's Andréhn-Schiptjenko gallery focuses on Martin Jacobson (amusing ink on canvas drawings, think five cats sipping tea in a moonlight landscape), Xavier Veilhan (low polygon sculptures, including one of Le Corbusier), and Matts Leiderstam. The latter shows a recent series of abstract works, titled Panels, which draw from his personal viewing experiences of historical paintings and play on geometric forms and block colour.
V1 Gallery
A founding gallery of the fair, V1 has a record of staging some of the Chart's most memorable presentations (last year's group show, inspired by The Rolling Stones' 1966 hit Paint It Black was a crowd favourite). This year they have honed the spotlight on the young artist Danny Fox. The work of the self-taught, LA-based Fox juxtaposes vivid colour with melancholic themes, and here he shows a suite of five large-scale portraits, plus a salon-style hanging of 40 monochrome works on paper from 2011-2018.

i8 Gallery
Reykjavik's i8 Gallery presents 'Saltscapes' by Icelandic painter Ragna Róbertsdóttir, whose work not only depicts the landscape of her native country, but also consists of it. These works featuring black lava salt distributed onto a glass surface, creating mesmerising forms that bear a curious resemblance to microscopic imagery. Also on view are wall mounted works by conceptual artist Kristján Guðmundsson and a recent piece by Olafur Eliasson, titled Flatland light.
Andersen's Contemporary
Another founding gallery, Andersen's Contemporary is highlighting young artists of diverse origins, all now based in Copenhagen. Absalon Kirkeby (son of the late Per Kirkeby)'s photographs, Morten Knudsen's painting, and Farshad Farzankia's collage set a contemplative mood, while Shiyuan Liu's Chair No. 10, a found chair with front legs precariously perched on two latex balloons offers a dash of whimsy.
INFORMATION
Chart Art Fair runs from 31 August – 2 September. For more information, visit the website
ADDRESS
Kunsthal Charlottenborg
Nyhavn 2 – 1051
Copenhagen
Receive our daily digest of inspiration, escapism and design stories from around the world direct to your inbox
TF Chan is a former editor of Wallpaper* (2020-23), where he was responsible for the monthly print magazine, planning, commissioning, editing and writing long-lead content across all pillars. He also played a leading role in multi-channel editorial franchises, such as Wallpaper's annual Design Awards, Guest Editor takeovers and Next Generation series. He aims to create world-class, visually-driven content while championing diversity, international representation and social impact. TF joined Wallpaper* as an intern in January 2013, and served as its commissioning editor from 2017-20, winning a 30 under 30 New Talent Award from the Professional Publishers' Association. Born and raised in Hong Kong, he holds an undergraduate degree in history from Princeton University.