Artists bring nothingness into sharp relief at Langen Foundation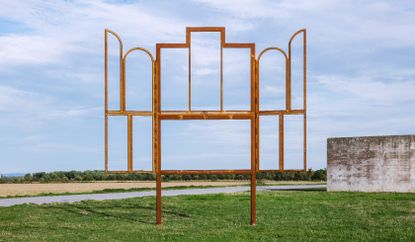 (Image credit: Sebastian Drüen)
An exhibition featuring 32 artists from Hong Kong's Burger Collection has been unveiled at the Langen Foundation, Neuss. 'How To See [What Isn't There]' tackles all angles of 'nothingness' and 'the void', spanning numerous eras and disciplines, from photography to VR and performance art. Amassed over two decades by Max and Monique Burger, the eclectic collection hasn't been steered by the canon of art history or by calculated directives of the art market, but through friendships, curiosity and a zest for making art accessible.

Two years ago, the Burgers approached Gianni Jetzer with a pitch to curate a show. The Hirshhorn Museum curator-at-large initially declined, but returned four months later with a title stemming from his 2017 project, 'What Absence is Made Of'. 'It was a subject I became obsessed with; nothingness and immateriality,' Jetzer tells us. He believes the true worth of art to be intangible, 'it's the value in communication, empathy and thinking about the world in philosophical terms'.
The imposing glass and concrete museum sits within the grounds of a former NATO base, active during the Cold War and now forming part of the Hombroich Cultural Environment. Intelligent use of natural light recurs throughout the interior, which sprawls across looped levels and modulated chambers.

'For me it was important to take advantage of the architecture,' Jetzer says. 'It is the vessel, and it's the vessel that creates the void, so you have to respect it.' With over 1000 pieces in the collection to boil down, Jetzer was challenged to avoid a 'cacophony'. Instead, he executed a sparse arrangement to allow space to digest each work. 'Making a show is similar to text editing, you have to chisel a lot away,' he says.

Visitors are first confronted with Chris Martin's large-scale construction Altar (2014), which looms over the gallery entrapping the rural Lower Rhine landscape. An exact replica of the frame of the 15th-century Van Eyck painting, Adoration of the Mystic Lamb, the skeletal panels are left vacant – partly a commentary on how Van Eyck's paintings were frequently and notoriously stolen, but also on how religious painting in the Renaissance was used to mediate between God and his followers. Martin isn't framing divine iconography, but encasing its creation.
Altar becomes a focal point in a nearby site-specific commission. Canadian artist Jon Rafman's Deluge: Hombroich Raketenstation sees the Langen Foundation building submerge into a dystopic alternate realm through virtual reality. The work is anchored in physicality: two 3D printed busts appear as entities both in the exhibition space and also in VR – a user experience that is simultaneously concrete and illusionary.

Multimedia work The Dream (2012) by The Propeller Group draws on the prevalence of the 1985 Honda Dream, a motorcycle seen as an eponymous icon and symbol of financial independence in Vietnamese culture. Demonstrating how the bike's parts are frequently sought after by thieves, a video documents the bike, abandoned in Sai Gon alley as thieves dismember and eventually gut The Dream of its desired parts for sale on the black market. The stripped vehicle appears in the exhibition as a skeletal shell stripped of all former function.

Also gathering work from stalwarts Gilbert & George, Fiona Banner and Urs Fischer alongside emerging talent including Iván Argote, Marguerite Humeau and Ho Sin Tung, the show is at once a subtle portrait of the collectors, a reflection of the solace in immateriality, and the viewer's descent into each inescapable void.
INFORMATION
'How To See [What Isn't There]: A Group Show of Works From the Burger Collection Hong Kong' is on view until 17 March 2019. For more information, visit the Langen Foundation website (opens in new tab)
ADDRESS
Langen Foundation
Raketenstation Hombroich 1
41472 Neuss
VIEW GOOGLE MAPS (opens in new tab)
Harriet Lloyd-Smith is the Arts Editor of Wallpaper*, responsible for the art pages across digital and print, including profiles, exhibition reviews, and contemporary art collaborations. She started at Wallpaper* in 2017 and has written for leading contemporary art publications, auction houses and arts charities, and lectured on review writing and art journalism. When she's not writing about art, she's making her own.