Raw refinement: Blair Thurman's debut show at Peres Projects, Berlin
Berlin-based Cuban Javier Peres stages a debut show of American artist Blair Thurman at his gallery, Peres Projects.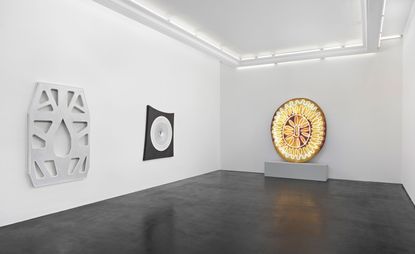 (Image credit: Peres Projects)
Javier Peres is showcasing Blair Thurman's sculpture and art in an exhibition at his Berlin gallery Peres Projects. Pictured from left: Method Artist, (Road Runner), 2015, Pencil Me In-side, 2015 and Pushin' Up Daisies From a Pine Box, 2008 - 2015
Berlin-based Cuban Javier Peres is staging a debut show of American artist Blair Thurman at his gallery, Peres Projects. 'Thurman is an artist with an exceptional, hands-on practice – one who I have been watching grow for some years now,' he says.

Now living in New York, Thurman grew up in Boston, spending much of his time among the leading minds of new media and pop artists like Andy Warhol, Nam June Paik and Carl Andre at the city's Institute of Contemporary Art where his mother was the director.

He started creating in the 1980s with a desire to break out of the constraints of the prevailing artistic theories. For the show, Thurman continues to mine new meanings from many continuing, serialising forms. 'I find his treatment of materials and painterly approach simultaneously raw and refined. I became quite fascinated with the way he deals with serial forms – this 'signature content' that he incorporates gets reanimated with new colours and details, and its this continuous reproduction that creates such lasting imagery for me,' Peres explains.

Thurman has grounded his work on his boyhood interests and memories; instinctive ideas that came to him before knowledge could get in the way of his artist consciousness; inevitably those memories reference diverse facets of Americana. New large-scale pop minimalist paintings are made for the show, Nine Gates and Gringo (FMH), further straddle the boundaries of both conventional painting and sculpture.

A group of his signature neon sculptures will also be displayed at the show which runs till 19 December.
INFORMATION
Blair Thurman is on show at Peres Project till 19 Decemer. For more information, visit the website (opens in new tab)
Photography courtesy of Peres Projects
ADDRESS
Karl-Marx-Allee 82
10243 Berlin
Germany
VIEW GOOGLE MAPS (opens in new tab)