Biennale Arcipelago Mediterraneo: reflections on Sicily's history and futures
Opening against the backdrop of Italy's snap general election, the third edition of the Biennale Arcipelago Mediterraneo in Palermo ruminates on past and present global conflicts, interwoven with stories from the Mediterranean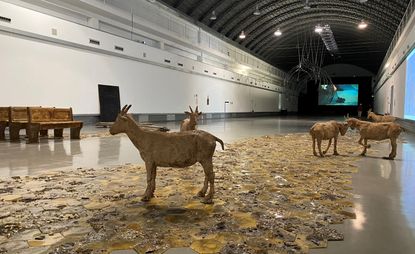 (Image credit: Courtesy Fondazione Merz)
The streets of Palermo were buzzing with energy as the Biennale Arcipelago Mediterraneo (BAM), opened its third edition with a series of events in various locations across the Sicilian capital. This was the weekend before Italy's snap general election, a fact that the organisers couldn't have anticipated. 'I kind of like it,' said BAM's artistic director Andrea Cusumano. 'It's almost as if we're interfering to voice our views.'
Inaugurated in 2017 – initially, to lay the groundwork for the arrival of Manifesta 12 in Palermo the following year – BAM has made a point of reinventing itself with each iteration, with one constant: the city of Palermo, geographically closer to North Africa than Rome, remains its main protagonist. This sprawling edition is centred on live arts and experimentations, activating the city's many hidden gems and claiming its public space. 'My dream is to create a new kind of Black Mountain College here,' said Cusumano, who was previously Palermo's deputy mayor for culture and has big plans for its art scene. 'That's why we don't have a curatorial theme, it's more about the setting as a signifier.'
At Fondazione Merz's new space inside a former factory, a show titled 'Isolitudine' comprises four solo exhibitions. There, Chilean artist Voluspa Jarpa mines declassified CIA documents to create room-size installations. Usually focusing on the United States' secret operations in South and Central America, on this occasion she delved into Operation Gladio as well, which took place in Europe during the Cold War. The Nato countries' intelligence agencies were involved in clandestine anti-communist operations that have led to a series of right-wing terror attacks across Europe, including in Italy. In a city that has seen its share of violent bloodshed, her installation is sure to strike a nerve, especially as Palermo commemorates the 30th anniversary of the murders of anti-mafia prosecutors Giovanni Falcone and Paolo Borsellino by mafia bombings.
Next to Jarpa's work, a stunning multi-part installation by Istanbul-based artist Guido Casaretto incorporates material elements from his own community's history to contemplate the story of the Levantines, or Constantinople Italians. Wood from a church bench in Istanbul's Levantine quarter and a clay amphora, for example, are broken down to create new sculptures following strict mathematical calculations. This show-within-a-show forms a poetic rumination on migration, complex identities, and interwoven histories across the Mediterranean region.
BAM's programme will keep evolving throughout its duration, with more exhibitions and events added at different times, including an upcoming installation by Rafael Herman at an as-yet-undisclosed location. In a practice that explores light's physical and metaphysical qualities, the artist captures landscapes in zero-light pollution areas.
Using a super-long exposure technique he has developed himself, Herman portrays nature's unseen beauty. During a residency in Palermo's Fondazione Sant'Elia, which culminated in a major exhibition there earlier this year, he captured nature reserves near Mount Etna, one of the world's most active volcanoes, on Sicily's east coast.
This long-term approach characterises this edition of BAM, with many of the works on view resulting from artist residencies in the city. Earlier this summer, artists Stefania Galegati and Efi Spyrou invited Palermitans to participate in the performance La Fila Lunga (the long queue), in which 150 people gathered in piazza Magione for hours, forming a meandering line to wait for nothing at all. The event was filmed and a screening, offering a moody meditation on the passing of time, took place in the magnificent yet slightly shabby galleries of Fondazione Sant'Elia, in the city's busy historical centre.
On the museum's façade windows, Ukrainian artist Daria Koltsova, who's been in residency there since the spring, created crisscrossing patterns with adhesive tape, referencing the simple means Ukrainian citizens use to protect their windows from the shock waves of explosions. Historically, and during the refugee crisis of the past several years, Sicily has always had a welcoming policy towards immigrants. It remains to be seen how a political turn to the far-right after the weekend's election will impact the Mediterranean's largest island.
INFORMATION
BAM, 3rd Edition – Biennale Arcipelago Mediterraneo, until 22 January 2023, Palermo, fondazionemerz.org