Photographer Athos Burez pays tribute to Flemish Masters with a fresh spin on baroque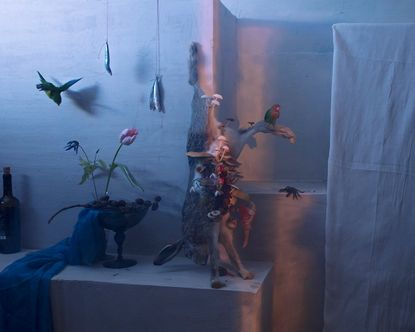 (Image credit: Athos Burez)
'I didn't realise it was meant to become so grand', admits Athos Burez contentedly as he lays the finishing touches on the installations for his exhibition 'Baroque Burez', opened at Museum aan de Stroom (or, Museum by the River) in Antwerp. 'First and foremost, I thought it was great to be given this much freedom with a subject.'

As part of the city festival 'Antwerp Baroque 2018. Rubens inspires', the photographer was commissioned by MAS to display the synergy between old and new forms of baroque. 'There are so many types of baroque, it's interesting to use elements from each', says Burez. 'I prefer the freshness and lightness of neo-baroque, Caravaggio's intimate light and Rubens' beautiful chaos.'

Famously, Antwerp is the city where Rubens painted The Descent from the Cross (1612–1614), a baroque landmark, which still hangs in the Cathedral of Our Lady. It's also the city where he ran his prolific studio and where he collaborated with other great 17th-century baroque masters such as the expert animal painter Frans Snyders and Jan Brueghel the Elder.
Four hundred years later, Burez is one of the city's contemporary creatives, yet one whose personal aesthetic leans towards the expressiveness of baroque. His photographic compositions often include dramatised scenes, symbolic storytelling and an intense play between colour, light and darkness. 'People drew the parallel before, and I see the similarities in terms of my use of sets and the excessiveness of some of my work,' allows Burez.

The photographer looked towards classic baroque themes, such as historical painting, hunting scenes, the Wunderkammer and still lifes, for this exceptional large-scale exhibition, spread over the so-called Boulevard of the ten-storey MAS.

For the incredibly detailed fauna in Baroque Burez, he collaborated with the taxidermist Viktor Leestmans – the equivalent of Snyders to Burez's compositions. Each scene – from his own version of The Descent from the Cross to his lavish set tables – are turned contemporary by adding humorous twists and modern objects, such as electrical heaters, Coca-Cola cans, graffiti and fluorescent lamps.

Shooting in historic locations such as the Antwerp Rockox House and the Brussels courthouse as well as contemporary buildings like the Antwerp Tower, which is currently being demolished, Burez creates atmospheric images that translate the spirit of baroque while capturing its relevance.
INFORMATION
'Baroque Burez' is on view at Museum aan de Stroom until 21 April 2019. For more information, visit the MAS website and the Visit Antwerp website
ADDRESS
Museum aan de Stroom
Hanzestedenplaats 1
2000 Antwerp
Receive our daily digest of inspiration, escapism and design stories from around the world direct to your inbox